Annie Oakley Perfumery Studio & Gift Shoppe
Contact Information
260-894-7219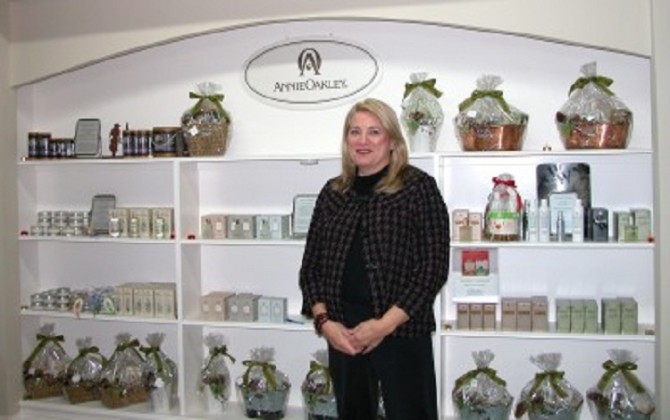 -Take a Factory Tour -Sample Natural Fragrances -Browse our Gift Shoppe -Create your own unique fragrance
Share in the Magic Enjoy a rare opportunity to view a perfume studio and experience a world collection of natural and organic fragrances. You will learn how fragrances are created, blended and bottled.
Annie Oakley Perfumery was founded in 1980 by perfumer/entrepreneur, Renee Gabet. Her mission was to create world class perfumes right here in the American heartland. *Gift Shoppe Open to Public- Monday thru Friday 10 am to 5 pm. Year round, no holidays. Free Admission. *Open Public "Sensory Tours" - Tuesday, Wednesday and Friday promptly at 10 am and 2 pm. Admission $5 at door. *Scheduled Private "Sensory Tours" - For tour groups, clubs, circle of friends, details to pre-schedule contact: [email protected], 1-800-652-6643
Hours: Monday-Thursday 10am-5pm
Credit Cards Accepted
Handicap Accessible
Gift Certificates Available
Shipping Service
---
Fun yet Informative
Reviewed 06-15-16
We recently visited Annie Oakley, and it was quite the experience! First, the lady who led the tour and was working in the store was very sweet and super helpful. It was fascinating to hear how the... Read More
---
Great experience
Reviewed 07-09-15
Very nice shop top quality perfume great tour and samples. Reasonably priced makes great gifts and cool products for animals as well. Read More
Explore Nearby
On the map below, you'll find Annie Oakley Perfumery Studio & Gift Shoppe, as well as a few of the lodging, dining, and activities that are close by.
THINGS TO SEE & DO
DINING EXPERIENCES
PLACES TO STAY
Related Listings by Category