42 Signs You're From Shipshewana, Indiana
1. You know how to pronounce "Shipshewana." And it's not "Shipshewan-ee" or "Sip-se-wana."
2. You don't have to pinch your nose at the smell of manure. To you, it's just "good, fresh country air."
3. Your driver's education training included learning how to pass buggies and bicycles.
4. Rush hour is on Tuesdays & Wednesdays during flea market season.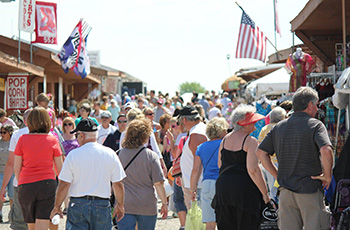 5. Your main diet consists of fried chicken, mashed potatoes, fresh pie and haystacks.
6. You know what a haystack is.
7. You've ordered "dippy eggs" for breakfast.
8. You don't think twice about buying fresh produce and eggs on the honor system from a roadside stand.
9. You know what a "yupper" is.
10. You stay home on Sundays.
11. You have access to world class family-friendly entertainment through the Blue Gate Theatre.
12. You know the difference between Amish and Mennonite.
13. "Keeping up with the Yoders" makes more sense than "Keeping up with the Joneses."
14. You always have plenty of cash on you…most Amish businesses don't take credit cards.
15. Chores are still very much a way of life.
16. There's a town festival for almost everything. Even quilts.
17. And quilts aren't just on your bed, they're planted in local gardens and painted on barns.
18. There are buggy hitches and bike racks at almost every business.
19. You know the nickname for Rise N' Roll's cinnamon caramel donuts.
20. When you say "Let's shop at Yoder's," you could be referring to a department store, a meat & cheese shop, a hardware store, or the red barn shoppes.
21. Your town's history is painted in murals all over the sides of buildings.
22. You grocery shop at E & S Sales and get outstanding deals on bulk foods.
23. You fall asleep to the "clip clop" of buggies passing by.
24. On the second Saturday in November, your entire town gathers around a giant Christmas Tree at the end of aLight Parade to hear the Christmas story read from the Bible.
25. Your weekend plans often consist of going to benefits, auctions and haystack suppers.
26. You've witnessed buggy races and donkey basketball tournaments.
27. When going to the flea market, you enter off of Farver St. because you know how to avoid the traffic.
28. To you, peanut butter is a dessert.
29. You've ridden the pumpkinvine.
30. You satisfy your adventurous side by kayaking or canoeing down the many area rivers.
31. Taking time to slow down is a standard by which you live.
32. Kannscht du Deitsch schvetza?
33. You're super competitve when it comes to cornhole.
34. You frequently pass organic farms on your way to work.
35. Unique furniture, antiques, and other items are right outside your door.
36. Your kids love the 1906 Dentzel Carousel on the top floor of the Davis Mercantile.
37. You meet people from all over the world who come to Shipshewana to shop, sell or just experience the way of life.
38. You eat a soft pretzel at least once a week from Ben's or JoJo's, yet you still can't get enough of them.
39. You've been on a safari-style wagon ride at Dutch Creek Farm Animal Park.
40. Everyone in town knows you or your family. Or they play the "name game" to figure out who you are.
41. You know not to say the word "snowcone" when you're eating Hawaiian Shave Ice at Kukui's.
42. Between the friendliness of the people, the excitement of the tourist attractions, and the uniqueness of getting to live alongside both a religion and a culture, you couldn't imagine a better place to live.
LIKE THIS BLOG??
CHECK OUT OTHER BLOGS ON SIMILAR TOPICS: