The holidays come early in Shipshewana, and we LOVE it!! At the end of October, the elves are out hanging lights and decorating all over town. It's a nice mix of fall and Christmas décor for a period of time, but once November arrives it's an all-out Christmas extravaganza here in Shipshe! Just in time to kick off the best holiday season in the best destination around. Plan your trip today.
Lighting of Shipshewana Parade & Tree Lighting Ceremony
In early November, the holiday spark will come alive! We kick off the same way each year with a tree lighting ceremony and parade in downtown Shipshewana. Santa even flies in to give gifts and spread cheer to the children, while parents enjoy cookies and hot chocolate. The sound of Christmas music fills the air as performers jump start everyone's spirit before the parade starts. The festive floats travel through the entire town, so pull up a chair, grab a hot drink and enjoy. After the parade, the famous Blue Gate Christmas tree is lit, officially declaring the beginning of A Shipshewana Christmas.
Lights of Joy
Shipshewana's Lights of Joy drive-thru light display begins in early November. Every Thursday-Sunday, load up the car and hit the "dusty trail." This 1.4 mile-long cruise will guide you through more than 2 million LED lights in fun holiday scenes. The displays are sure to spark holiday cheer in you and will become an annual event for you and your family!
The Christmas Tree Ship
Every now and then the holiday season can seem stressful, and the Blue Gate Theatre's musical, The Christmas Tree Ship, brings this to life in a light-hearted drama. The epic and heartwarming tale of a family's mission to transport Christmas trees from upper Michigan to Chicago will have you on the edge of your seat. There's plenty of showtimes, so catch one while in town for an event, or make a special evening of it.
Chocolate Day
There aren't many people in the world that wouldn't be intrigued by Chocolate Day where you can purchase a one-of-a-kind chocolate box at Aunt Millie's Candy and Nuts, then hit the town to try and fill it up! Different stores will have different kinds, letting you end up with a delicious variety. As if you needed another reason to participate, all proceeds will go to a local charity.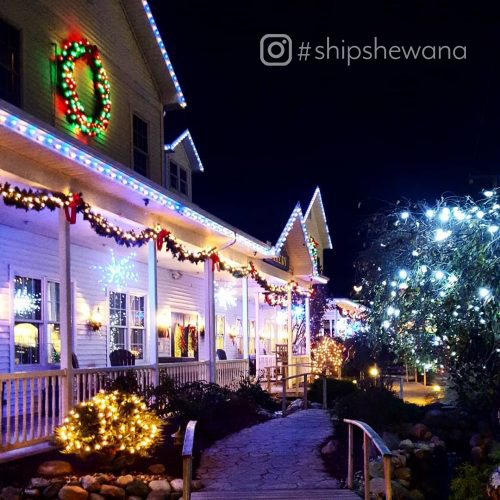 Wana Night Out
It's the biggest town-wide sale of the year! Wana Night Out always falls on the Tuesday after Thanksgiving. Make a night of it and shop Shipshewana for some great deals as the gift-giving season is coming up. Whether you're shopping for the clothing lover, home decorator, or antique collector, the variety of stores will have something for everyone.
Kids Day – Santa Comes To Town
If you see Santa flying over your house early this year, he's on his way to Shipshewana – where he makes his rounds every year in early December for Kid's Day. Children will enjoy visits with Santa, along with plenty of other activities. Just a warning, after coming to Kids Day your children will be begging you to come back next year!