Country Victorian B&B
Contact Information
574-825-2568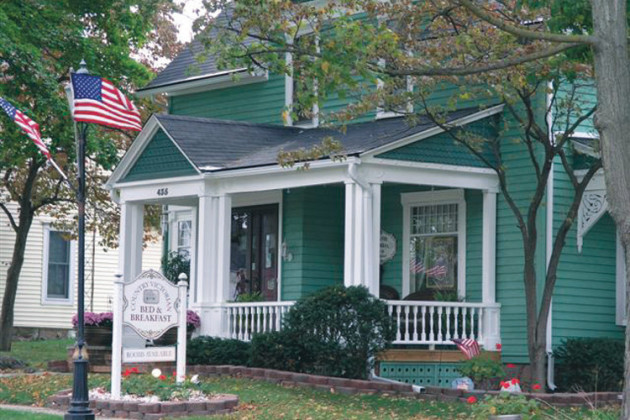 Lodging In the Heart of Amish Country! The Country Victorian Bed & Breakfast located in Northern Indiana's Amish Country, is a tranquil, feel at home, escape. Our four guest rooms have been updated with modern amenities, yet have a delightful, comfy decor. Every stay in our Middlebury, Indiana bed and breakfast includes freshly prepared full breakfast; private baths, cable television/DVD/CD, complimentary WiFi throughout the inn, on-site parking, four-season fireplaces, as well as access to the Pumpkinvine Nature trail.
You can enjoy old fashioned porch sitting, freshly brewed iced tea, homemade cookies, while watching the Amish buggies clip-clopping by in the warmer months. Head out the back garden gate for walking or biking the Pumpkinvine Nature Trail. Visit downtown Middlebury to experience the quaint shops, or have a piece of pie and a cuppa at one of the local eateries. Explore Krider Gardens (a replica of the gardens designed by Krider Nurseries for display at the 1933/34 Chicago World's Fair), where you can relax and enjoy beautiful trees, shrubs and flowers, a water-wheel, and a double swing gazebo.
A freshly prepared full breakfast with fresh, local ingredients, specially roasted signature coffee, and delicious specialty teas is served each morning. Special dietary needs can be accommodated with prior notice.
Discover what Hoosier Hospitality means with a warm, friendly welcome, a selection of teas, specially roasted coffee, a freshly prepared hot breakfast and a comfortable guest room with private bath! Rest your head on freshly ironed sheets, Relax in the slower pace of small town life, and Refresh with lively conversation, or a solitary walk out the back gate on the Pumpkinvine Nature/Bike Trail.
The Country Victorian's desire is to make your visit to the inn and the local area an enjoyable, relaxing experience from beginning to end. If there is anything you need to make your experience more pleasurable, or if we can be of service while you are planning your trip or while you are staying at the inn, please let us know!
Cable/Dish
Complimentary Refreshments
Flat Screen TV
Number of Bedrooms: 5
Private Baths
TV In-Room
Air Conditioning
Credit Cards Accepted
Full Hot Breakfast
Group Friendly
Cancellation Policy
Related Listings by Category
Explore Nearby
On the map below, you'll find Country Victorian B&B, as well as a few of the lodging, dining, and activities that are close by.
THINGS TO SEE & DO
DINING EXPERIENCES
PLACES TO STAY