Amish Log Cabin Lodging
Contact Information
260-768-7770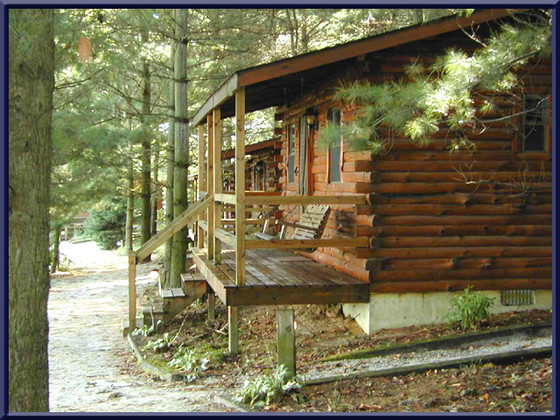 Nestled in the pines along the countryside you will find our Amish Log Cabins all handcrafted. 13 lodging cabins featuring quilted comforters, lacy curtains, maid service, color TV, A/C, heating, hand crafted furniture, front porch swing, private bath with a shower and of course towels and linens. Each of these cabins come with a complimentary continental breakfast. The cabins can accommodate from 2 - 4 persons.
Our Schoolhouse cabin is a semi-private 2 bedroom, 1 bathroom cabin that sleeps 4. Sorry, no cooking or pets are allowed in the cabins.
We also have 5 CAMPING CABINS situated in the pines adjacent to our red barn bathhouse-meeting room building. Ideal for group outings, these are a favorite for families, church groups, boy's and girl's clubs as well as those individuals traveling on a budget. Inside you will find electric lights, A/C, heating, a set of bunk beds, a full size bed, table and Amish church benches. Outside is a front porch swing and picnic table. A community fire pit and barbecue grills are located nearby.
Modern Restrooms
Microwave
Modern Shower/Bath House
Number of Cabins: 18
Air Conditioning
Campfires Permitted
Credit Cards Accepted
Family Friendly
Food on Site
Cancellation Policy
Picnic Area
WiFi
Explore Nearby
On the map below, you'll find Amish Log Cabin Lodging, as well as a few of the lodging, dining, and activities that are close by.
THINGS TO SEE & DO
DINING EXPERIENCES
PLACES TO STAY
Related Listings by Category