Whether you're a selfie taker or prefer a more professional shot, here are the top spots for awesome photo-ops in Shipshewana. (And don't forget to tag us #shipshewana when you post!)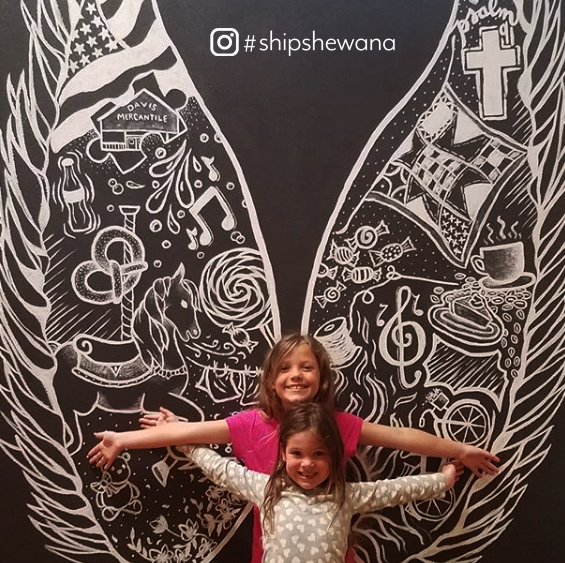 NEW!! Davis Mercantile "Wings"
The newest selfie spot in Shipshewana was created in 2020 in the Davis Mercantile. The mural represents all the great stores in the mercantile and the love they have for their visitors!
There's No Place Like 'Gnome'
UPDATE 10.26.2020: The Gnome has roamed!! Country Yard Outlet has sold their giant gnome statue but don't worry – he has a great new home and is still making new friends!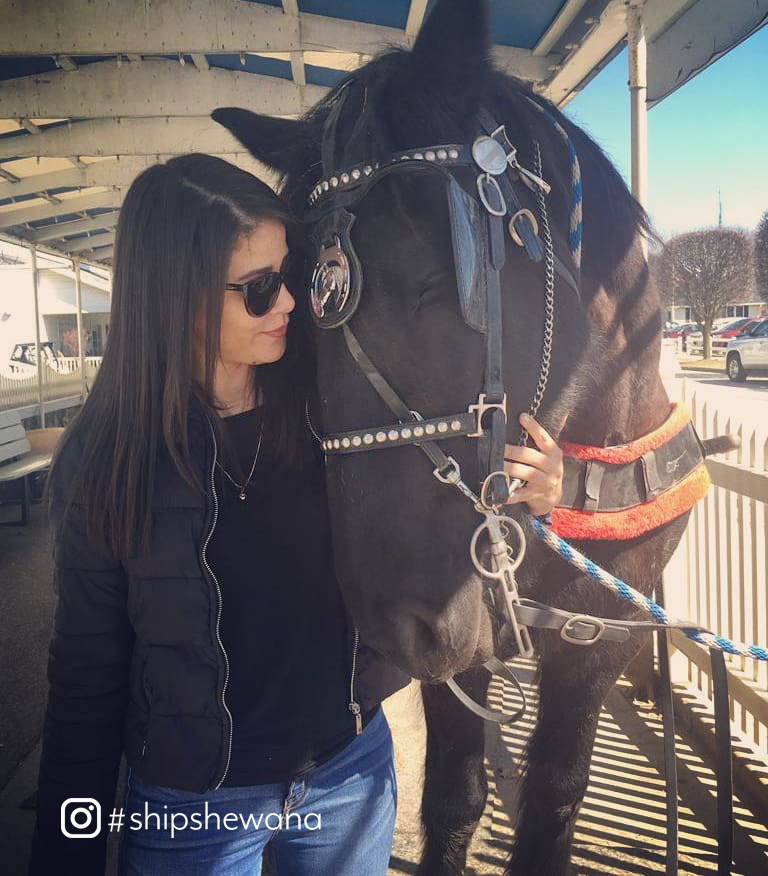 Shudder-Buggies
How about a live selfie with a Shipshewana icon? When you're walking into the Blue Gate Restaurant & Bakery, stop and snap a pic with one of their photogenic horses – they have no problem joining your group!
Hang Out With The Walldogs
In 2014 the Walldogs spent a week in Shipshewana painting 16 murals throughout town. Each mural has its own meaning regarding the history of the community and the influential people and businesses that made Shipshewana what it is today. Find your favorite, snap a pic and tag us!
The Carousel in Davis Mercantile
One of our 'must-do' activities in Shipshewana is to take a ride on the 1906 Dentzel Carousel featuring unique hand-carved farm animals. A beautiful attraction for kids of all ages!
The Pumpkinvine Trail
Outdoor lover? Walk down the Pumpkinvine Trail and travel right along the old railway. With 20 miles of paved trail, there are endless places to stop and grab a pic.
Flea Market "You Are Here"
If you told your friends you were going on vacation in Shipshewana, they might say where is that? Track down this sign in the Flea Market to take a pic to show them "YOU ARE HERE". And after seeing other pics of your trip, they'll be wanting to come here themselves!
Flea Market "Wings"
Our final favorite photo spot: the Wings at the Flea Market! And since the Flea Market is pet friendly, you can capture a sweet pic of your four legged best friend too.
Looking For A Unique Spot???
An overlooked place for a perfect picture is the caboose downtown Shipshewana by the old depot building. Climb on board and snap a part of history. For history buffs, make sure to walk next door to the Shipshewana Historical Society to learn more about our unique past.
Post your pic and tag #shipshewana – we might just share your pic on this page!