The origins of the Davis Mercantile building can be traced back to 1891, when original owner Hezekiah Davis built a hotel near the train station to house travelers. What followed was more than 130 years of prosperity, growth, new ownership, relocation, the addition of retail enterprises, a devastating fire, uncertainty, rebuilding, ingenuity, new growth, and celebration. The Davis Mercantile grew right alongside the town of Shipshewana and now both have become examples of Amish perseverance and country ingenuity, not to mention integral parts of the local community and beloved travel destinations.
For more info about the spot's history, or the story on the enormous tree that runs up the center of the building, click here! 
Davis Mercantile is located at 225 N Harrison St. in Shipshewana,  Business hours are Monday through Saturday, 10am to 5pm, and it's easy to spend the day there and still not have gotten to every shop!
Someday when you have plenty of time, grab your family or a good friend and explore everything Davis Mercantile has to offer. I've even made you a little guide.
I recommend starting at the Kitchen Cupboard Coffee Shop for a delicious coffee drink and maybe a snack to get you going. Make sure you check and see what their daily specials are, the latte flavor combinations can be surprising and tasty. You may find a new favorite go-to!
Next, head down to the lower level (there are elevators for those who prefer them.) There you'll find a custom Amish wood craft lover's paradise: Riegsecker Cabinet Company and Weaver Furniture. Find all the beautiful hand-made pieces to complement your home.
Are you outdoorsy? Then you'll love Head Over Heels, the shop for all your outdoor clothing and shoe needs, featuring North Face, Keen, Chaco, and Smartwool Socks. Stock up now for the coming winter temps!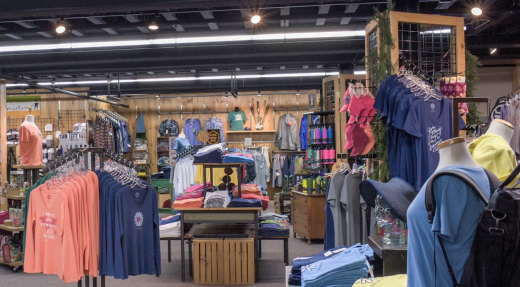 Next, back up to the first floor for some fun accessory shopping at Sarah Davis, where you can find products from Vera Bradley, Brighton Heart Store, jewelry from Alex & Ani, as well as special bracelets designed by the store's owner to commemorate your visit to Shipshewana with special charms like buggies, carousel horses, the Indiana state flag, and more!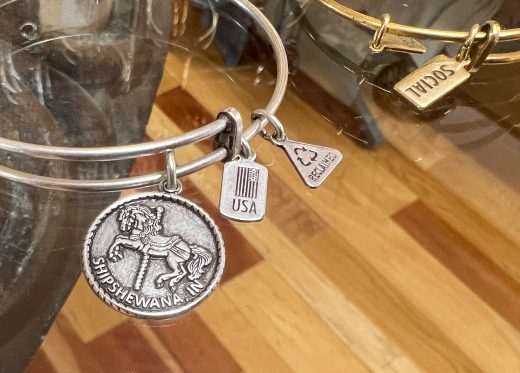 At The Lang Store, and the Village Boutique you'll find enough exclusive table linens, gifts, bedding, fabrics, and home décor to set your decorator's heart aflutter.
Stop in at Simple Sounds for all things musical! CDs, sheet music, gifts, melodious locally made windchimes, as well as some of the most interesting instruments you'll ever see, including lap harps and hammered dulcimers.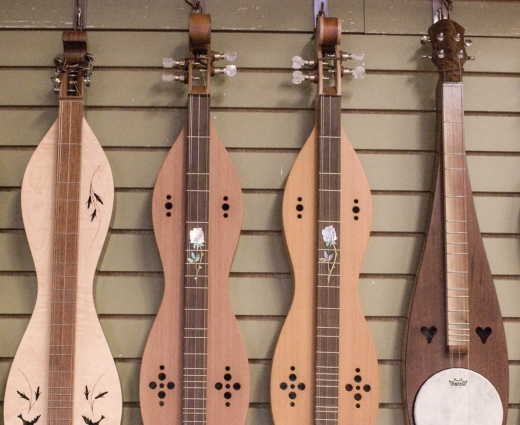 If you're a quilter, or know one, make sure not to miss Lolly's Fabrics for notions, quilting supplies, and more fabric choices than you can swing a presser foot at. (Don't do that, though. You'll break your machine!)
You may start feeling snacky right about now, so fortify yourself with a warm, handmade soft pretzel from Jo-Jo's, also conveniently located on the first floor.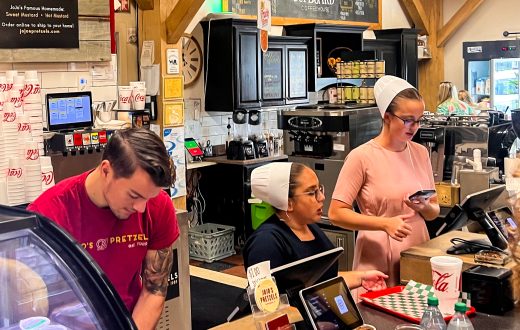 Time for the second floor! Stop in at Back Home Again for Shaw area rugs, visit Truly Yours for Braided rugs, and beaded garlands. Head over to Options for amazing women's clothing and accessories, and to Shipshe Casuals for locally handcrafted apparel, and Shipshewana souvenir tees.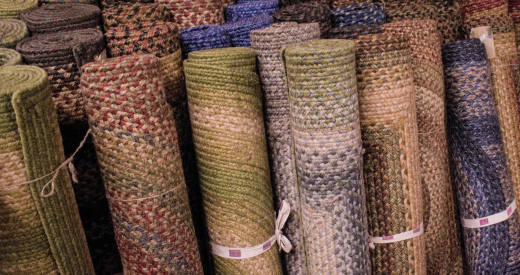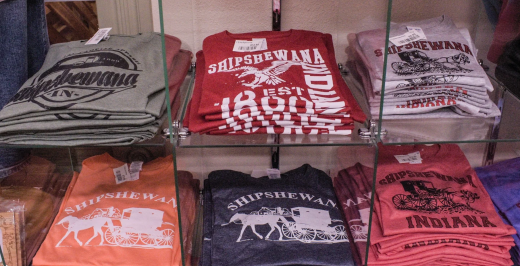 A favorite among families, you'll also find Puzzles Plus on the second floor! Specializing in all kinds of puzzles, it's the perfect stop for fun and unusual gifts.
Now, if you were to ask a kid what their favorite floor of Davis Mercantile is, they will undoubtably answer you with a resounding "3rd Floor!"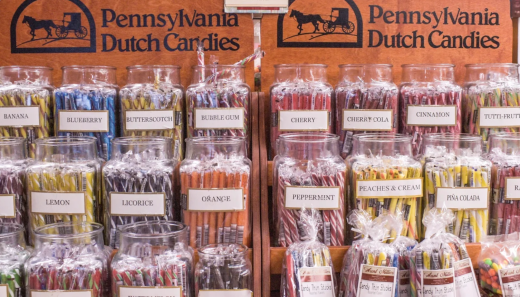 The third floor is the home to Aunt Millie's Candy & Nut Shop, Millie's Market Café, and the Red Wagon toy store.
The toy store is located right next door to the one-of-a-kind 1906 Dentzel Carousel. This wonder from the past is fully restored, with hand-carved and hand-painted farm animals and horses for you to choose from. (You can read more about the story of the carousel on the Davis Mercantile website.) Make sure you take a ride and take some beautiful pics to show the folks back home!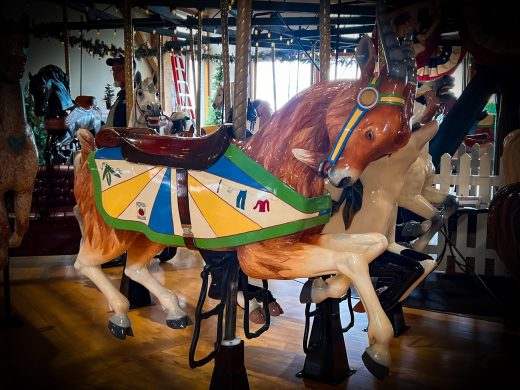 Millie's Market Café is directly across from the carousel and is the perfect place to grab some lunch. If the weather's good, you can even eat outside on the rooftop patio. And for the moms and grandmas, there's our final store, Seasons, specializing in beautiful and unique home décor, and Farmhouse style pieces.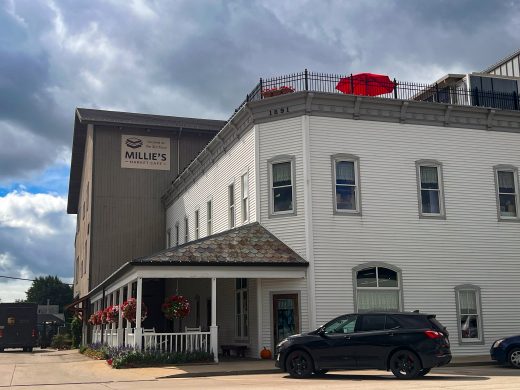 One final tip, there are benches and seats spread throughout Davis Mercantile, in case anyone needs a break or if grandpa just can't look at anymore fabric. Enjoy your visit!