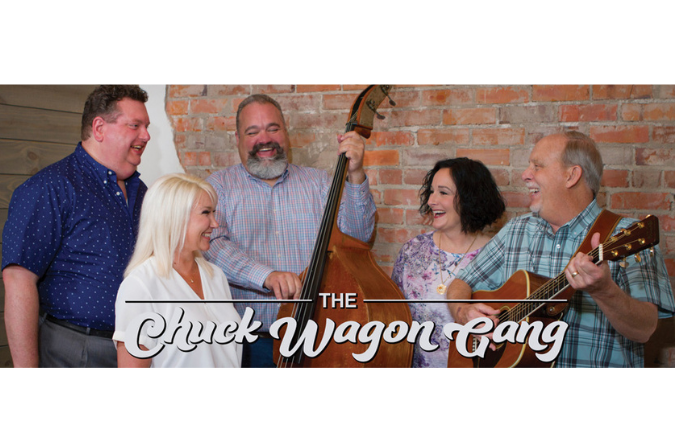 Chuck Wagon Gang
Event Starts
Friday, Nov 4 2022 @ 7:00 PM
Shaye Smith
Shaye Smith, the group's owner, manager, and alto singer, is the granddaughter of the Gang's original alto, Anna Carter Gordon Davis, and Howard Gordon, who was the group's guitarist for many years. Shaye was born in Nashville, TN and grew up in Baton Rouge, LA. She is married to Andy Smith, and they make their home in Hertford, NC. They have three children, Ben, Noah, and Chloe.
Melissa Kemper
Soprano Melissa Kemper is a native of Groveton, TX, and she still resides there today, with her husband, Jamie, and children Weston, Brandon, and Alysse. Melissa sang soprano with the Chuck Wagon Gang between 2001 and 2006, then left the group to be with her children during their formative years. She re-joined the quartet in 2015.
"I am very happy that God has brought me back into the group after all these years," she says. "I am truly blessed."
Josh Garner
For over 23 years, Josh Garner has been a staple in the world of Gospel music ministry. Having been the lead singer for such legendary groups like the Florida Boys, the Blackwood Quartet, and the Dixie Melody Boys, Josh has ministered in all 48 continental states, every province of Canada, and several Central American countries. Garner has been featured on the Bill Gaither Homecoming videos, the National Quartet Convention, the Jubilee Conferences, the Grand Ole Opry, and Willie Nelson's Farm Aid among countless other major events.
Scotty Owenby
Scotty Owenby is the group's upright bassist and plays the guitar and mandolin on instrumentals. He was born and raised in Asheville, NC but currently resides in Marshall, NC with his wife Wendy and their children Isaiah and Hannah Grace.
He grew up in a musical family, where singing and playing the guitar was a common thing at home. By the age of 7, he began receiving his first guitar lesson, given by his Mammaw Blanks while sitting in her kitchen. His first remembrance of singing was in the CWG style of 1 guitar and 3 to 4 part harmonies. From that time, he went on to sing and play with several local small gospel and bluegrass groups in and around the Asheville area.
Darrell Morris
Darrell Morris sings bass and plays guitar as in the traditional role for the Chuck Wagon Gang. He was born and raised in Fort Worth Texas, just 6 miles from the place where the original Chuck Wagon Gang sang on WBAP radio every day. He remembers hearing the distinct sound of the group on Sunday mornings as the family got ready for church.
Darrell got his start in music from his uncle Wilburn Morris and brother Nathan Morris who was his first music partner. He has been involved in church ministry since becoming a Christian as a young boy.
Darrell joined the Chuck Wagon Gang in 1993 and played guitar for Roy Carter's Chuck Wagon Gang until Roy's passing in 1997. Darrell reformed the group in 1998 and sang bass and played guitar until 2003.
Price and Ticket Info
Ticket Prices

$24.95
(plus tax & fees)