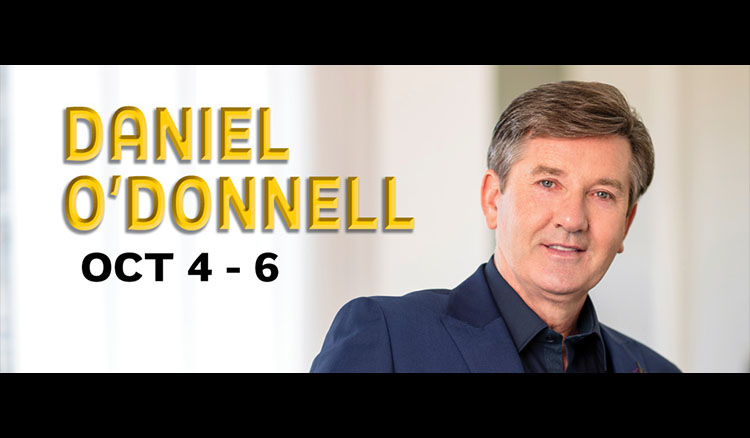 Daniel O'Donnell
Event Starts
Tuesday, Oct 4 2022
Event Ends
Thursday, Oct 6 2022
he affable and unassuming international singing star Daniel O'Donnell, one of Ireland's best known performers from Australia to Alaska, continues to push out the boundaries of his career both on stage and TV in 2018 and 19.
Daniel's remarkable career has moved on to a new level with his success as a TV presenter, just another facet to his ever expanding list of entertainment achievements.
He is the only artist in the world to score a hit in the UK album charts every year since 1988, an unprecedented and unbroken 30 year span and in doing so, he has outshone everyone from Michael Jackson and Madonna to U2 and the Rolling Stones. In 2016, "The Best of Music And Memories", released in February charted on the UK midweek chart at No. 7, the third highest new entry on that weeks' UK Artist Albums Chart.
In October 2015, Daniel released his "Hank Williams Songbook", a collection of his own personal favourites. It reached No 5 in the charts and then in October 2016, "I Have A Dream" reached no 12, whilst the "Back Home Again" album took him back into the UK Top 10 in 2017, giving him his 32nd chart hit there. "Christmas with Daniel O'Donnell", released in November 2017, entered the UK Artist Albums Chart at No. 19 and gave him his 33rd UK Top 30 Pop Charts hit.
Now in November 2018, Daniel could add further to his number of UK chart hits with the release of his latest album titled "Walkin' In The Moonlight" containing many original songs. Release date 30th November 2018 on DMGTV.
In total, Daniel has now reached the UK Artist Albums Chart with almost 40 albums and has now amassed THIRTY THREE Top 30 albums over the course of his career. Daniel has also achieved eight number one hits in the UK music video/DVD charts over that period. He makes regular appearances in the Billboard World Music Chart, received an honorary MBE from Queen Elizabeth, appeared on Top of the Pops, had his life celebrated on This Is Your Life and received multiple Entertainer of the Year/Person of the Year Awards in Ireland and the UK – to mention but a few of the many accolades.
Across the ocean in the USA, where Daniel has a loyal and ever increasing following, he is winning awards too. His most recent award was in Dakota USA where he has been inducted into the Scandinavian-America Hall of Fame for the Humanitarian Award. Recent notable inductees into the Hall of Fame include Kris Kristofferson and Hollywood actor Josh Duhamel.
In 2017 Daniel won the prestigious IBAM award in Chicago. These international awards are presented annually at the Irish-American Heritage Centre in Chicago in a celebration of Irish Books, Arts and Music. Daniel got the accolade for his contribution to Irish music and culture globally.
On screen, Daniel enjoyed recording the reality TV series called 'Daniel and Majella's B&B Road Trip' for the third successive year in Ireland, which was done firstly with UTV and then for the past two years with a prime-time slot on RTE TV1.
The fun that Daniel and his wife Majella had, and the camaraderie that they enjoyed whilst touring the B&B guest houses of Ireland transcended to the viewers, as this latest series was one of the most popular programmes on TV in Ireland. "The B&B was a lot of fun because we were on the road together," Daniel says, adding that he got to see and experience many places in Ireland for the very first time.
"While I've travelled the length and breadth of Ireland touring with the band, I never got to stop and really see the places and meet the locals," he points out. "We got a tremendous welcome in every B&B and we are so delighted that the show got to convey to people how wonderful it is to stay in people's homes and to enjoy the Irish hospitality".
Meanwhile the 'Room to Improve' TV programme was one of the most watched shows on RTE TV 1 in Ireland, on prime time, after the main news on a Sunday night in February. Even though it required Daniel and Majella to move out of their Donegal home over Christmas, it's ultimate success, as well as the complete re-modelling of their home, made it all worthwhile. Daniel has also presented and performed on the 'Irish Country TV Awards' live show on RTE and appeared on countless other TV shows on RTE, TV3 and 'Keep It Country' on Sky TV, as well as many BBC programmes.
And, yet to be aired this autumn, on TG4 & BBC TV Alba in Scotland, Daniel's "Opry Le Daniel" TV series of 14 programmes sees him present a myriad of singing talent, amongst which is one of Daniel's all time music idols, Charley Pride. Daniel also sings in Cherokee with American star and actress, Rita Coolidge.
He made his acting debut in spring 2018 on the TV soap 'Ros na Run' on TG4, while he led the singing of tribute songs to the late Great Big Tom on the Late Late Show Country Special last April. All this current TV success has seen Daniel's career on the small screen blossom since he took on the daunting task of being a contestant in the 2015 series of Strictly Come Dancing, one of the BBC's top rated shows and one of Daniel's all-time favourite TV shows. It took him out of his comfort zone but he had a lot of fun doing it.
Daniel said "Right now I intend to enjoy every moment of the wonderful opportunities that are starting to come my way in so many different parts of the world. It is a great surprise at this stage of my career to be branching out in new directions, especially on TV, and I am pursuing those new challenges with renewed energy and vigour". Daniel's concerts around the world sell out on a regular basis and after more than 30 years in the spotlight, as an engaging entertainer, he is still in love with performing and with audiences the world over. With his new band, Daniel will again be playing in many parts of the world in 2018 and 2019.
His run of shows in Killarney in Aug 2016 sold out in record time, as did his shows there in subsequent years. On each occasion, he preformed to over 12,000 enthusiastic fans. Such is Daniel's popularity, that fans travel from as far away as the USA and Australia to see him in those concerts in his native Ireland.
His 'White Christmas' spectacular show, staged in the iconic and luxurious Dublin Convention Centre, Dublin in December 2016, sold out in 20 minutes and a third show added sold out in less than two days. The show was a festive celebration of Christmas standards from the man himself and his very special guests, including long-time singing partner, Mary Duff. The show was recorded by RTE 1 Television and aired on Christmas Eve night 2016. It was later released on a CD/DVD pack in 2017 and reached no 19 in the UK pop charts.
Daniel is now taking this spectacular show to Branson, USA where he will be performing for the month of November 2018 at The Welk Theatre. It is a big show production with some sensational Christmas scene sets, choirs and of course, the beautiful Mary Duff and the music of Daniel's very talented band.
2018 has seen Daniel doing more globe-trotting than ever, with tours in the UK, USA and Canada, as well as countless concert and TV appearances in his homeland. He is looking forward to doing the same again in 2019 when he will visit Australia, Sri Lanka and Alaska as well as returning to the UK, mainland USA, Canada, and of course Ireland, as he continues to bring his great show to all his fans worldwide.
There is no doubt but that Daniel intends to continue touring around the globe with his unique, life affirming shows of music, song and laughter, for a long time to come.
"While it is nice to make new inroads in different areas, it is still most important to me to continue to enjoy a loyal following in the other places I have been performing during my life since I embarked on this wonderful journey… the success, I owe it all to you. A sincere thank you to everyone who makes it possible for me to live this dream and I hope our paths will cross along the way somewhere around the world".
Price and Ticket Info
Ticket Prices | $29.95 – 89.95 (plus tax & fees)