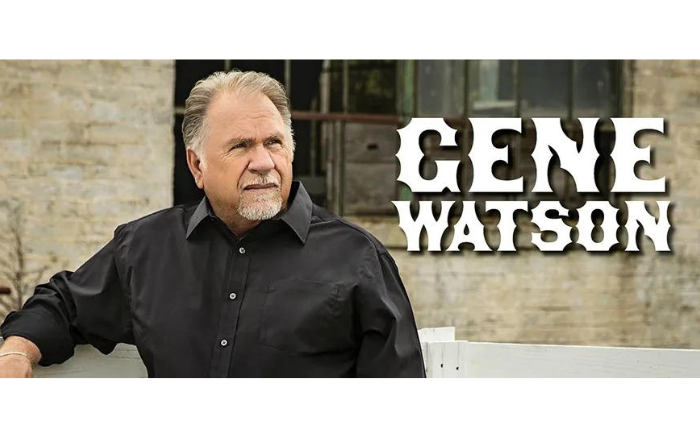 Gene Watson
Event Starts
Thursday, Oct 5 2023 @ 8:00 PM
If you ask any number of country singers who their favorite singer is, a large number of them will respond: Gene Watson. His music peers even named him "The Singer's Singer" for his octave jumping range and smooth tone. Gene Watson has 34 studio albums, scored over 72 charted songs, including 23 Top Tens and 6 #1 hits over his fifty-year career. Watson's first single, the self-penned, "If It's That Easy" was released on Sun Valley Records in 1962.
It is safe to say that most knowledgeable country fans would point to Gene Watson as one of country music's best ballad singers in the same league as country icons George Jones, Merle Haggard, Ray Price, and others who are the standard-bearers for honest, traditional country music. It's no surprise to anyone but Gene that the Grand Ole Opry asked him to be a member and inducted him into that iconic group in March of 2020, just before the world shut down for the pandemic.
It's also no surprise that such artists as Vince Gill, Lee Ann Womack, Trace Adkins, Connie Smith, Joe Nichols, Alison Krauss, and many others are not only happy but eager to record with Gene. It's a stunning truth that at nearly 78 years of age, Gene still sings with his clear, pure tone intact, an unmatched soulful delivery, and in the same key as 30 years ago. And that is good news for fans of real country music rooted in the timeless values of one of America's bedrock musical genres.
Gene's life story is a classic country life scenario. He is truly a humble man of the soil who has no idea of his own greatness. When he sings at the Grand Ole Opry, other artists gather at the side of the stage to watch him. But Gene himself seems incapable of pride or self-congratulation. Indeed despite all his success, he has never totally abandoned his auto repair business.
Born in Palestine, Texas in 1943, Gene Watson was singing in holiness churches with his family at an early age. His father played blues harmonica and guitar alongside African-American field laborers. Watson grew up loving both bluesman Jimmy Reed and honky-tonk king Lefty Frizzell. His earliest public country performance came when he was just 12 years old.
Gene Watson says " I have been on top. And I've been just as low as you can go." All of those ups and downs have kept Watson always searching for his next project and never giving up. He concludes, "There's a tremendous number of people around the world who continue to come out to hear some fiddle and steel and songs about heartbreak and real life," Gene says. " I think there is still such a hunger out there for traditional country music. So I'd like to stay out there as long as I'm able to do the job and do it well."
Price and Ticket Info
Tickets:  Available March 17, 2023