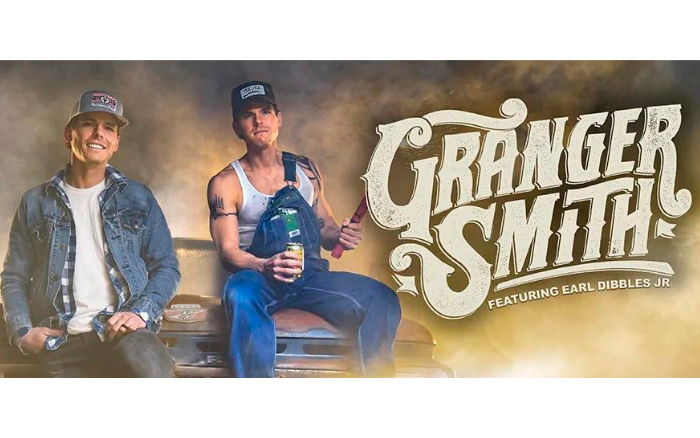 Granger Smith feat. Earl Dibbles Jr.
Event Starts
Friday, Apr 21 2023 @ 7:30 PM
"You don't always know what's around the next curve, but you take that road anyway. That's what makes it beautiful." – Granger Smith on the path he's taking now
The power of music has always been in Granger Smith's hands, even when he didn't know it. When people need hope, his songs inspire it. When people are in a tough spot, he shows them a way out. When people are looking for purpose, he is proof that sometimes purpose finds you. That's what country music has done for Smith. And that's the true measure of a bona fide artist: when you can share a little bit of yourself with every story you tell and every picture you paint.
After the kind of year Smith had — we all had — he decided to let his music do the healing. Not just for himself, but for anyone who needs to hear songs that let them know they're not alone on whatever road they're taking. And it's been a long time coming.
This new batch of music from the born-and-bred Texan initially started back in early 2019. Smith was writing and creating and prepping for his 10th studio album, when all of those plans abruptly came to a halt.
"The vision for this music collection was just starting to come together. I had about six songs ready to record, and had booked a Nashville studio for June 5, 2019. And then we lost Riv the night of June 4," Smith recalls of the tragic night he and his wife Amber lost their 3-year-old son River in a drowning accident at their Texas home. "Everything stopped. The album wasn't just on hold. It didn't even cross my mind."
But after several months of mourning, he was visiting his parents, sitting on their front porch just outside of Waco, and listening to the song he'd written earlier that year with Chris DeStefano, Bradley Rempel and Jon Nite. "That's Why I Love Dirt Roads" was one of the songs he'd been planning to record on June 5.
"It started hitting me in a different way. It had taken on new meaning," he says. So he sat down to rework the song's bridge to reflect that sometimes dirt roads are beat up and broken, scattered and tossed in the breeze. But no matter their scars, it doesn't change what they are. That sounds a little like me.
Smith, his wife, their son Lincoln and their daughter London have started revealing more of themselves in their YouTube series The Smiths. Songwise, exposing your family is something Smith says only happens in country. "It's what separates country from rock and pop. We all overlap on love songs, loss songs, mad songs and happy songs. But where we don't intersect with those other genres is family." Keeping the stories and the lyrics genuine meant the music would have to follow that lead. "So there are no synth loops here. All the instruments are played by human hands," he says.
With the new music, the YouTube series, the Yee Yee brand, and the dependability of Earl Dibbles Jr., Smith says it all works together to reveal the truth. "We are normal, very vulnerable humans. Now when I meet people, they feel like they really know me. They genuinely feel closer to me and more comfortable around me," he says. And that is the proof that there's a little bit of Granger Smith in everything Granger Smith does.
Price and Ticket Info
Tickets available February 3, 2023