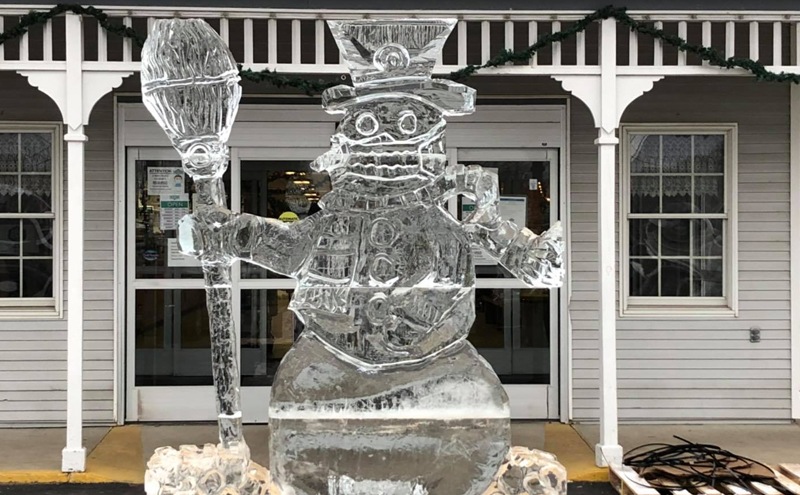 Ice Festival/Chili Cookoff
Event Starts
Friday, Jan 19 2024
Event Ends
Saturday, Jan 20 2024
This is the 17th year for the Shipshewana Ice Festival! Ice carvers will be drilling and shaving blocks of ice all over town. The creations they design are submitted by the sponsor or the carver's choice. These professional carvers enjoy the challenge of creating! Please stop in Shipshewana to see them work…or play.   To see more of the carving process, come Friday at 10AM  and stay until Saturday to see the finished results!  As an added bonus, several stores will have extended hours on Friday night!  Please call ahead for specific store hours.
Bring your taste buds and your appetite to the Shipshewana Chili Cook-Off that is scheduled to take place during the Ice Festival at 11AM on Saturday. Experience a variety of chilis, talk to our cooks, confer with your fellow judges, and cast your vote for the best Chili. The cook-off will take place downtown at the Smokehouse Grill & Supply store located on Morton Street.
2024 information will be posted when received
The dates for 2025 are:  January 17-18, 2025
January 2023
10am Friday
Ice Carving Locations
Ice Burg
Featured Ice
E&S Sales
Country Road Fabrics
Davis Mercantile
Shipshewana Carousel
Yoder's Meat & Cheese
Yoder's Red Barn Shoppes
Yoder's Shopping Center
Business Plus Ice
Cariloha
Ole Tin Rooster
Farmstead Inn
Head Over Heels (Davis Mercantile)
LaGrange CVB
Glow Bookstore
Der Ruhe Blatz
Aunt Millie's Nut and Candy Shop
Simple Sounds (Davis Mercantile)
Smokehouse Grills & Supply
2 Chicks and a Chair
Lasting Impressions
Edward Jones
Flagstar Bank
Lake City Bank
Coca-Cola (Davis Mercantile)
January
Ice Competition
11am Saturday
Howe LaGrange Insurance Agency
D Bar D Trucking
SRMA
Red Wagon
Aunt Millies Candy & Nut Shop
JoJo's Pretzels
Hiton & MariJanne Rauch
Chili Cook-Off
11am – Until Sold Out
Smokehouse Grills & Supply
E&S Sales
Blue Gate
Kathryn Martin
Essenhaus
El Zorrito
Floyd Borkholder
Caroline Hostetler
Chris Stauffer
Chili Cook-Off Entrance Fee
Buy a ticket for $10 – This gets you into the Chili Cook-Off Tasting
Buy an Ice Festival Pin for $15 – This gets you the Chili Cook-Off Tasting… PLUS access to over 35 store specials valued at $200. Deals are valid through January 2023.
Be sure to purchase a pin from the LaGrange County CVB (exact cash only-no cards), Kitchen Cupboard, Smokehouse Grills & Supply (During the Chili Cook-Off), or Lolly's Fabrics! Pins are $15 each and grant deals throughout Shipshewana businesses when presented.
Location
SRMA & Town of Shipshewana
n/a
Shipshewana, IN 46565