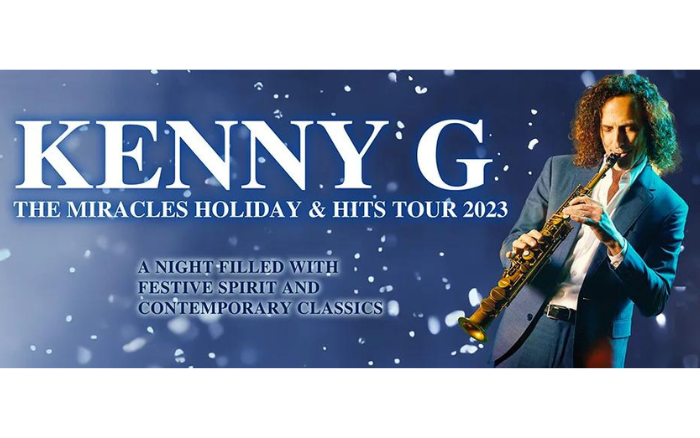 Kenny G
Event Starts
Friday, Dec 8 2023 @ 8:00 PM
The sound of Kenny G's saxophone is as iconic as his curly coif; indeed, both are instantly recognizable. His latest release, New Standards, the title of his 19th studio album, fifth for Concord Records and first since 2015's Brazilian Nights, could well be used to describe his four-decade body of work, a vision of jazz that helped launch both a musical genre and radio format. After director Penny Lane's critically acclaimed HBO documentary, Listening to Kenny G – which humorously reconsiders the purist critical backlash to his music – and a demand performance on Kanye West's Grammy-winning Jesus Is King album, it's now cool to not only be Kenny G, but admit you're a fan of his as well.
"I didn't realize how strong the message was until I saw the finished film," says Kenny, who has both the best-selling instrumental album of all time in the Diamond-selling, 12-times-platinum 1992 Breathless, earning him his only Grammy Award among 15 nominations, and the Guinness Book of World Records mark for longest sustained note ever recorded on the saxophone. The feature probes some of the many Kenny G accomplishments, from his song "Going Home" being used as the official end-of-work-day anthem in China to his skills as a golfer and airline pilot. He was also one of the original 10 investors in his Seattle hometown Starbucks Coffee.
Recalling his music spawning the "smooth jazz" phenomenon, Kenny explains, "I'm proud of the fact it was a new style of music that no one was either playing or writing at the time. And it touched a great many people who weren't into traditional jazz, pop or R&B. Somewhere in the middle, they found something they were looking for and liked."
For the last several years, Kenny G has taken to the internet with gusto, his posts becoming memes and going viral, as he continues to have fun with the whole idea of being his iconic self, satirized in South Park, Trolls World Tour (as a frizzy-haired sax player threatens the whole pop music cosmos with his "smooth jazz") and Saturday Night Live's Kenan Thompson-hosted "What's Up With That?" segment, where Fred Armisen plays a certain frizzy-haired soprano sax player.
"I don't know why they just don't have me do it," Kenny G laughs, perfectly in on the joke. "When I was on the show playing with Foster the People, I told them, 'Hey guys, I'm right here.' I can fake playing sax really well."
And, as you can hear on the excellent new New Standards, he does quite fine when he plays for real, too.
Price and Ticket Info
Ticket Prices   Available August 11, 2023 @ 10:00 am

$34.95 – 109.95
(plus tax & fees)