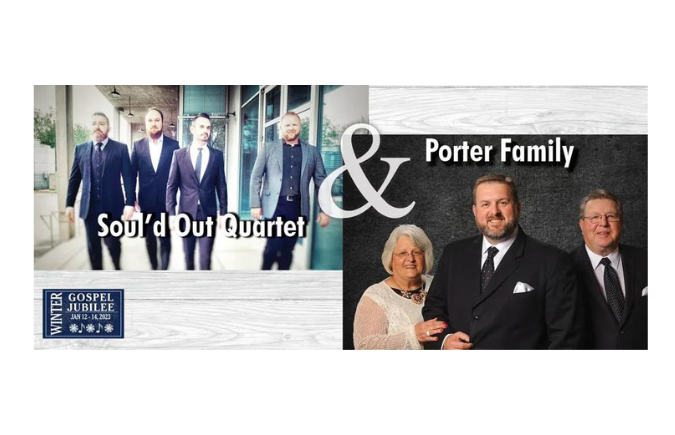 Soul'd Out Quartet & The Porter Family
Event Starts
Thursday, Jan 12 2023 @ 6:00 PM
Soul'd Out Quartet
In May of 2004, in answer to God's call on his life, Matt Rankin of Georgetown, Ohio started a journey to find men of kindred spirits and equal yoking to partner with him in a mission to fulfill that calling by evangelizing God's word through song. Now, in 2013, Matt's calling and dream have been realized in Soul'd Out Quartet. Soul'd Out Quartet, which is comprised of Dusty Barrett (tenor), Jason McAtee (lead), Matt Rankin (baritone), Ian Owens (bass), is not only a vocal group continuing the heritage of Southern Gospel music, but is also and foremost a ministry team answering God's call as stated in Ephesians: He gave some apostles, and some prophets, and some evangelists, and some pastors, and teachers; for the perfecting of the saints, for the work of the ministry, for the edifying of the body of Christ. (Ephesians 4:11-13 KJV) In this spirit, Soul'd Out Quartet travels the country with a mission of evangelism and discipleship to not only win souls for Christ by telling the world "what the world doesn't know", but also to further strengthen and encourage God's people to be the salt and light to the world and ambassadors for Christ, that we are each called to be and to exhort God's people to be servants with hearts on fire!
The Lore Family
The Lore Family consists of Darren, Sandy and their two children, Fayth and Samuel. They reside in the southern city of Portsmouth, Ohio. Over the past several years, The Lore Family have ministered in hundreds of services. The churches and venues that the Lore Family ministers in has been diverse. The family makes it a point to ensure that each concert or ministry opportunity is fulfilled in excellence and authenticity. They strive to ensure that every appointment filled has meaning and impact for those in attendance. Darren has been Senior pastor of two congregations within the last 20 years. He first pastored a church in Huntington, WV for 6 years. He later pastored Seventh Street Christian Baptist Church for 14 years, resigning in February of 2014.
The Lore Family considers every appointment to be an open door to serve the Lord and others. They feel extremely blessed to stand on a stage and minister. The Lore's believe the exhortation found in Eccl 9:10 ,Whatsoever thy hand findeth to do, do it with thy might (KJV). So, wherever you visit The Lore Family they will bring a passionate, powerful message to honor and glorify the Savior.
The Lore Family began their ministry traveling in the tri-state region of Ohio, Kentucky and West Virginia. They now have traveled all across the US, including 21 states such as Michigan, Virginia, Tennessee, North & South Carolina, Georgia, New Mexico, Missouri and more. They have also sang in Canada. As opportunity knocks, this revivalist family will continue to travel and minister through singing and preaching. They also speak at topical seminars such as Sunday School, Church Growth, Women, Men or Teen Ministry, Marriage, Parenting and Drug Awareness, etc.
The Lore Family sings a variety of music including; classic & current southern gospel favorites, as well as, originals written by Darren. Whether singing with tracks, live music, or a cappella, The Lore Family ministers to all ages. It doesn't take long for others to be inspired by the passion and the anointing of this spirit-filled family. They certainly have a desire to see souls saved, the church strengthened and God's name exalted!
The Lore Family launched out into radio and digital ministry on March 6, 2009. Their first national release was the title cut of their first project, An Absolutely Good Day. Since that day, the tight, family harmony of The Lore's, along with anointed, Bible-based originals have earned the group the recognition as an up-and-coming, new artist. The Lore Family have recorded three projects at Daywind Studios in Nashville, Tn. Their most current album was produced by the industry- known Wayne Haun.
The Lore Family have sung on the many well-known stages across the country. These stages include the National Quartet Convention, Gatlinburg Gathering Showcase, Singing In The Sun Showcase, Gospel Music Showcase TV, Great American Gospel TV, Gospel Music USA TV, Dollywood, Silver Dollar City and more. They have been featured on The Gospel Greats with Radio Personality- Paul Heil. Their radio releases have been consistently in the top 20 of the Singing News Chart, and are played regularly on satellite stations such as EnLighten Radio Sirius XM. Fans voting in the Singing News Fan Awards have voted The Lore Family in the top 5 category for Favorite New Mixed Group for 2 consecutive years. Although charts and awards are honoring, The Lore Family understands that these things come and go. Their main purpose for radio/TV ministry is to give a message of hope and encouragement to seekers and believers. As the Lord blesses, The Lore Family will continue to record and release quality, anointed Southern Gospel Music.
As the family has physically matured, they have sought to grow spiritually and artistically in the music and evangelistic ministry. Keep listening and watching The Lore Family Ministry. They ask you to include them on your prayer list and consider inviting them to your congregation or next venue. They would love to celebrate Christ and share their ministry with you!
Price and Ticket Info
Ticket Prices

$24.95
(plus tax & fees)