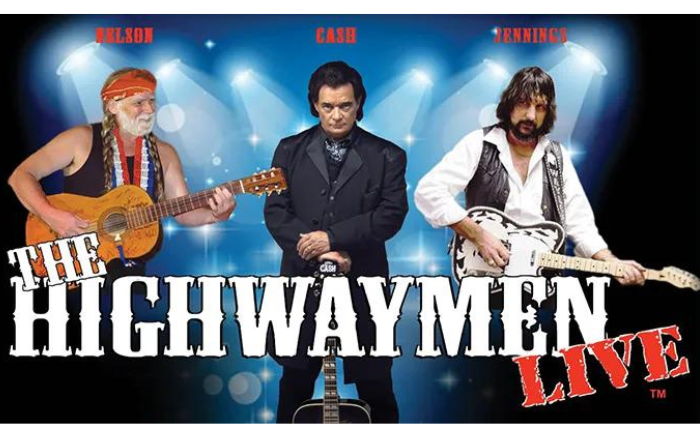 The Highwaymen Live
Event Starts
Thursday, Sep 21 2023 @ 8:00 PM
Perhaps the greatest country music super group in history, the Highwaymen, traveled the world performing country music to millions of fans. Your audience will watch in amazement as each song, one hit after another, is sung just as if they were seeing the original band perform. This 90 minute country music tribute show is full of upbeat, honky-tonk hits like Ring of Fire, Dukes of Hazard, and On the Road Again.
Relive The Magic…
Of The Greatest Country Music Supergroup Of All Time.
Willie, Waylon & Cash… The Highwaymen/Live
About the Original Highwaymen
The Highwaymen was a Country music supergroup comprising four of the genre's biggest artists well known for their pioneering influence on the outlaw country subgenre: Johnny Cash, Waylon Jennings, Willie Nelson, and Kris Kristofferson.
Active between 1985 and 1995, these four artists recorded three major label albums as The Highwaymen: two on Columbia Records and one for Liberty Records. Their Columbia works produced three chart singles, including the Number One "Highwayman" in 1985. While not credited as The Highwaymen, between the years of 1997 and 1999, Nelson, Kristofferson, Cash, and Jennings also provided the voice and dramatization for the Louis L'Amour Collection, a four CD box set of seven Louis L'Amour stories published by the HighBridge Company.
Price and Ticket Info
Tickets:  Available March 3, 2023