Of all the articles I have written on lodging in Shipshewana & LaGrange County, almost all the places featured provide access to the local culture. Hollow Ridge Lodging is the most unique for numerous reasons, and one of the 10 reasons listed below might just be why you choose to stay there.
The Cabins are owned by an Amish family
The pair of cabins are located on the property of an Amish family, the Hostetlers, who are very friendly, hospitable owners.
The Hostetler family will show you around
LeWayne is one of eight siblings. Not all the siblings still live at home, but LeWayne works nearby and also was my guide. LeWayne was interactive and friendly with me. He knew numerous aspects about the property, the log cabins, and his own family heritage. Had I visited only to get to know LeWayne, the time and effort would have been rewarded greatly by his friendly demeanor and local "Dutch" accent.
Learning about the area is the reason why most people visit here.
The cabins are situated on a remote hilltop
The terrain tends to be pretty flat around here with a few rolling hills, but the hill upon which the cabins are located is exceptional for this area. The views are stunning, and you truly are surrounded by the sights and sounds of nature.
The cabins are rustic but fully furnished
They are simply adorable. You will have solar power electricity and personal facilities. The beds and rockers are locally handmade. The beds are adorned with beautiful quilts. Outside, the porches are nap-worthy, and there is also a fire ring for your evening campfires. In other words, you'll be surrounded by nature without really roughing it.
You can visit with the deer
The Hostetlers own several deer, with two of them so tame they came right up to you. There are bucks, does and fawns.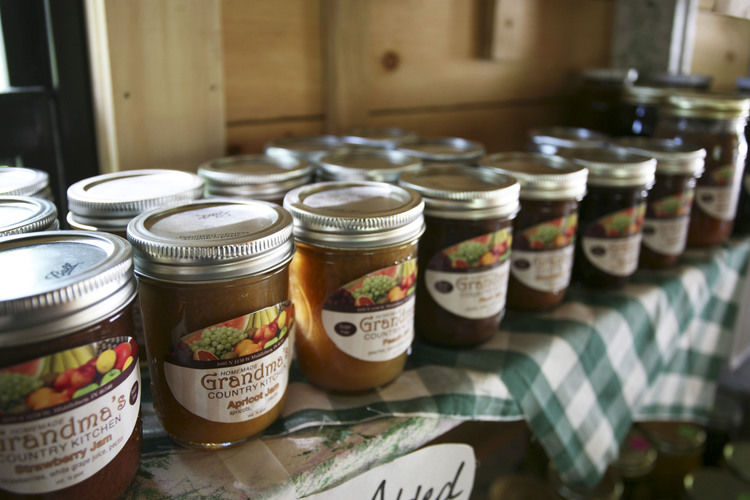 Katie's Homemade Cinnamon Rolls
Each morning, coffee and/or tea with fresh cinnamon rolls are set out for you to enjoy at your cabin!
You are one mile away from Rise-N-Roll Bakery
Hollow Ridge Lodging is located on the same road as Rise 'N Roll. If Katie's cinnamon rolls aren't filling enough for you, you can literally walk to the deli and bakery for more treats.
You can rent bikes
You're on a country road: Why wouldn't you want to rent a bike and ride freely on the Amish backroads?
You are 1.3 miles from the Pumpkinvine Trail
If you can make it that far on your bike, then you can enjoy a wonderful ride (or stroll) . The Pumpkinvine is a paved path that connects Goshen, Middlebury, and Shipshewana. Or, you can always drive, as there is a graveled small lot.
The cabins are centrally located between Middlebury and Shipshewana
Your accommodations will have you feeling as if you really got away from the hustle and bustle, but you're only five miles from Shipshewana and four miles from Middlebury.