It's rare to find a restaurant with such a history (and such amazing pie!) The Shipshewana Auction Restaurant, located at Shipshewana Auction & Flea Market, is a charming sit-down eatery that serves the buyers, sellers and visitors to the auction and flea market. Customers love to fill up on Amish & Mennonite favorites including chicken & noodles, pork chops, ham loaf, soups, sandwiches, and of course, pie.
Aside from the wonderful homestyle food, this restaurant has a history goes way back.  
Auction Restaurant History
The Auction Restaurant opened for business in 1930 in order to serve the buyers and sellers of the Shipshewana Livestock Auction (which had been growing in popularity since George Curtis first started it in 1922). The restaurant was operated out of George Curtis' garage and was run by the ladies of the Methodist Church.
In 1940, Curtis asked Milo and Ruth Miller, who were then catering farm sales, if they would be interested in taking over the operation. They accepted. So, each day, the Millers had to back Mr. Curtis's automobile out of the garage, sweep the floor and set up the restaurant equipment and gas stove. The vegetables came from Mrs. Miller's garden, and the pie came from her oven at home. She even made homemade catsup to go on the 20 cent hamburgers!
In 1950, a new Auction Restaurant was built to seat 50-60 people as the auction and pop-up flea market grew in popularity. The auction restaurant was re-done again in 1981. Now, it serves hungry visitors from all over the country during it's hours of operation, which coincide with the auction & flea market events.
The Menu
Because my office is literally right next door to the restaurant, I get the pleasure of eating there for lunch quite a bit! My personal menu favorites are:
Fish Dinner (Two Delicious Pollock Fillets, Breaded & Deep Fried; Mashed Potatoes; Cole Slaw & Vegetable)
Pork Burger (Mishler's 1/3lb Pork Burger)
Tenderloin Sandwich (Delicious Pork Tenderloin, Topped with Lettuce, Tomato and Mayo)
Grilled Chicken Salad (Crisp Tossed Salad Greens Topped with Seasoned Grilled Strips of Chicken, Tomato & Cheese)
Broasted Chicken Dinner (Juicy, Lightly Breaded Chicken, Mashed Potatoes, Cole Slaw & Vegetable)
The sandwiches come with french fries, but I love substituting sweet potato fries for an extra dollar because they are so delicious!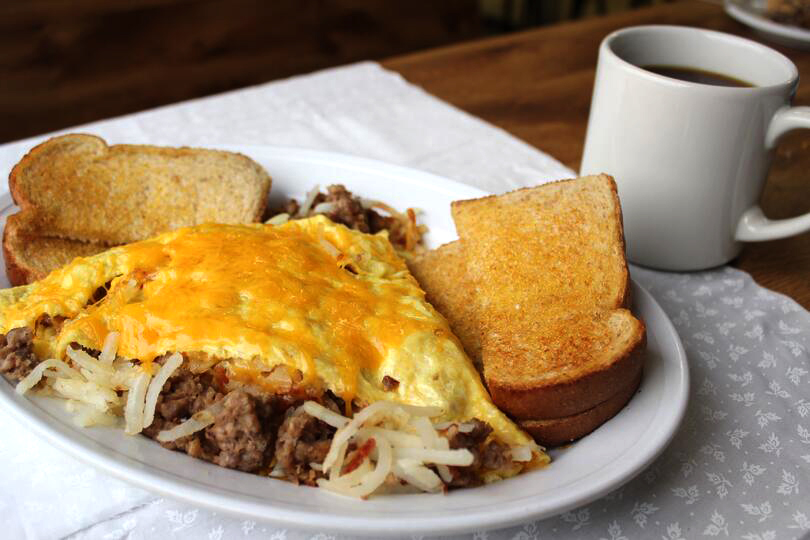 The Auction Restaurant also serves up a delicious breakfast. I love getting the veggie omelet and especially the homemade cinnamon roll – a huge, mouth-watering roll of happiness.
Now… let's talk about the PIE
Here in Amish country, we are serious about our pie, and the Shipshewana Auction Restaurant is no exception. You'll want to grab several slices of the homemade pie… check the specials boards for the available seasonal flavors like dutch apple, peanut butter chocolate, cherry, rhubarb, strawberry, coconut cream and more. My favorite is the dutch apple. I like to have a slice with a hot cup of coffee!
When you're in Shipshewana, be sure to stop in to the Auction Restaurant. You'll enjoy the food, service and the rich history!