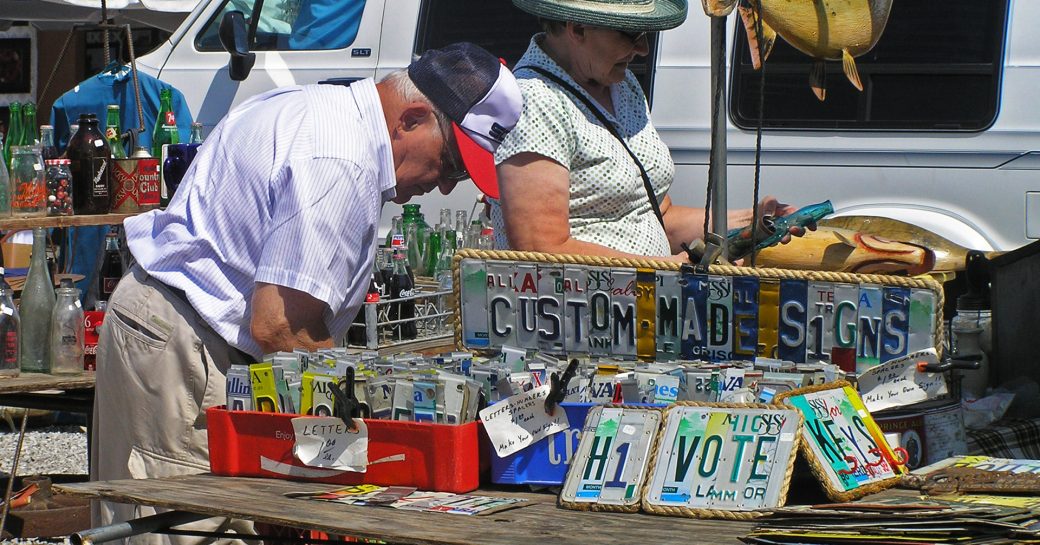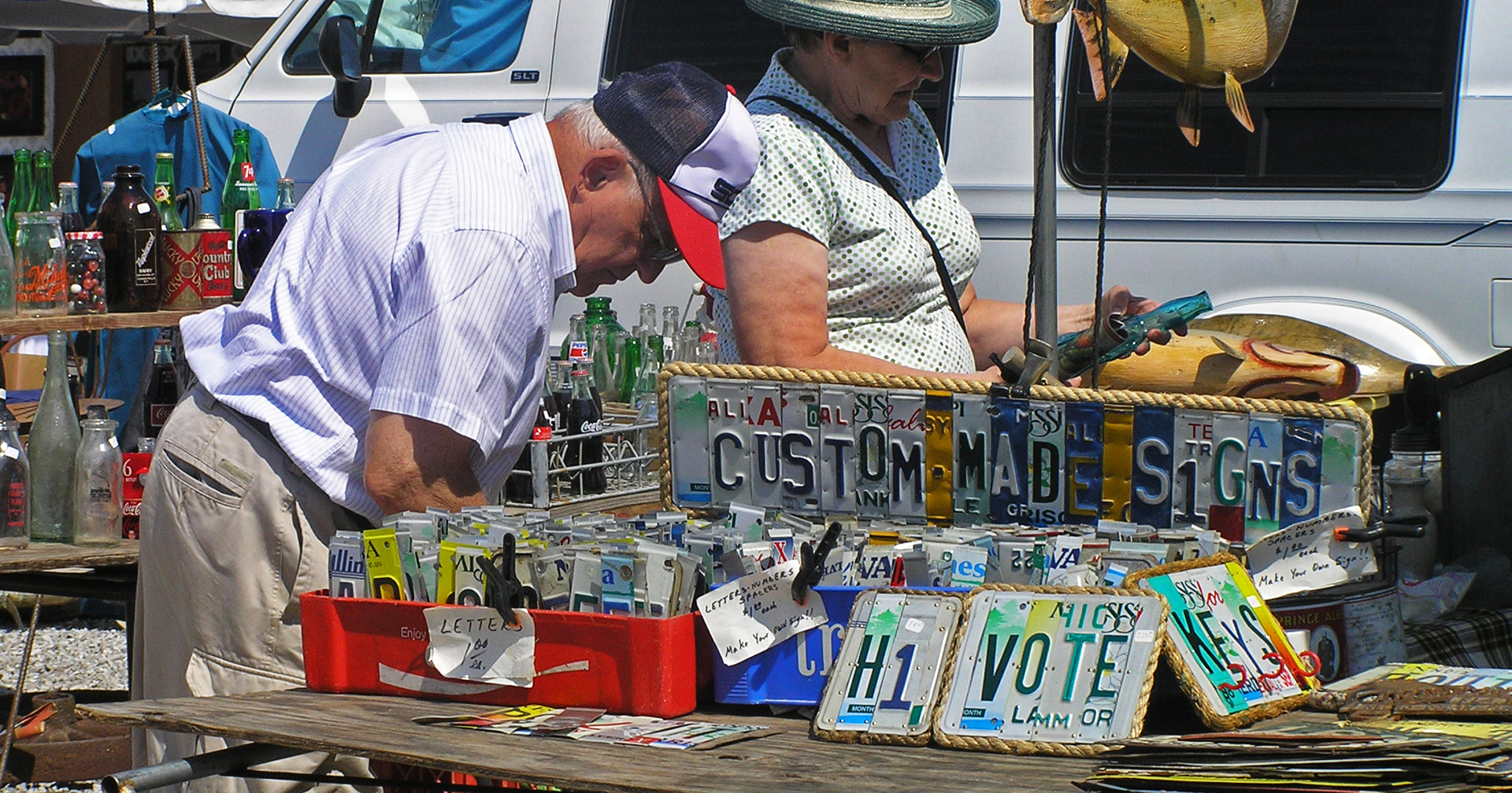 Flea Market & Auctions
LARGEST IN THE MIDWEST!
You've never seen shopping like this!
The Midwest's Largest Flea Market! Voted Top 10 Things To Do in Indiana and Leisure and Travel say it's one of the best Flea Markets in the country! Open Tuesdays and Wednesdays, May thru September, with 700+ vendors, the possibilities are endless: landscaping, fresh produce, art, home decor, furniture, crafts, antiques, purses, jewelry… and so much more!
The Flea Market property is over 40 acres and home to auctions, swap meets, and special shopping events throughout the year. Extend your stay more than one day to see it all!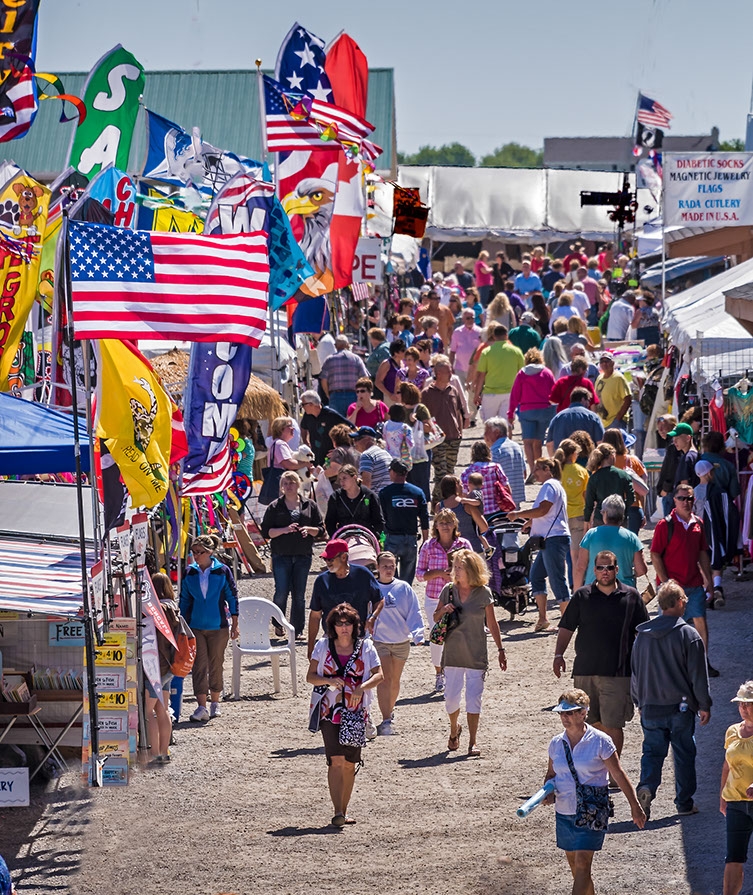 FLEA MARKET
Address: 345 S Van Buren St, Shipshewana, IN 46565
The open air market is open Tuesdays and Wednesdays, 8 am – 4 pm, May through September. There are also special market days for Memorial Day, Independence Day & Labor Day in addition to select weekend market dates that change annually. It will open for the season on the first Tuesday of May & close for the season on the last Wednesday of September.
Parking is $5 per vehicle but there are no other admission fees. The grounds are a fine gravel & the 40-acre campus has space for 700 vendor booths!
Scooter, wagon & shopping cart rental is available at booth #1018 by the main entrance. $10 per day wagon rental, $5.00 shopping cart rental, & $10.00 an hour scooter rental with a 2-hour minimum.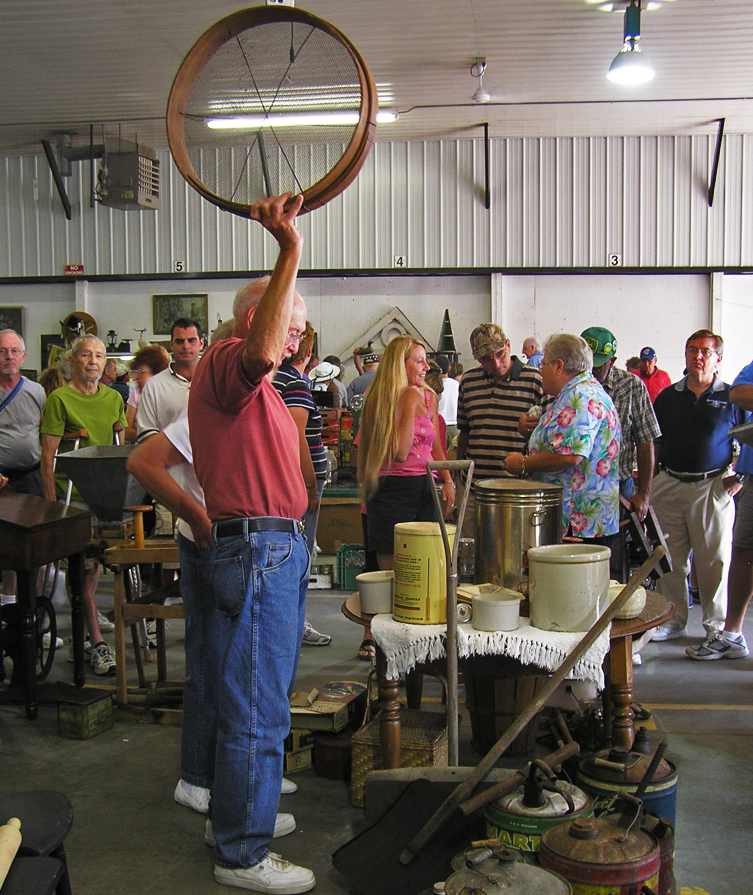 WEEKLY AUCTIONS
The Miscellaneous and Antique Auction is held every Wednesday at 9AM at the Flea Market Grounds. There are also special auctions that are held throughout the year such as Friday night auctions.
The Livestock Auction is held every Wednesday at the Flea Market Grounds. It starts at 10:00am & ends at 4:00PM with Butcher bulls, fat cattle & Cows.
Horse Auctions are held on Fridays at the Flea Market Grounds. Tack starts at 10:30am & horses at 12:30pm.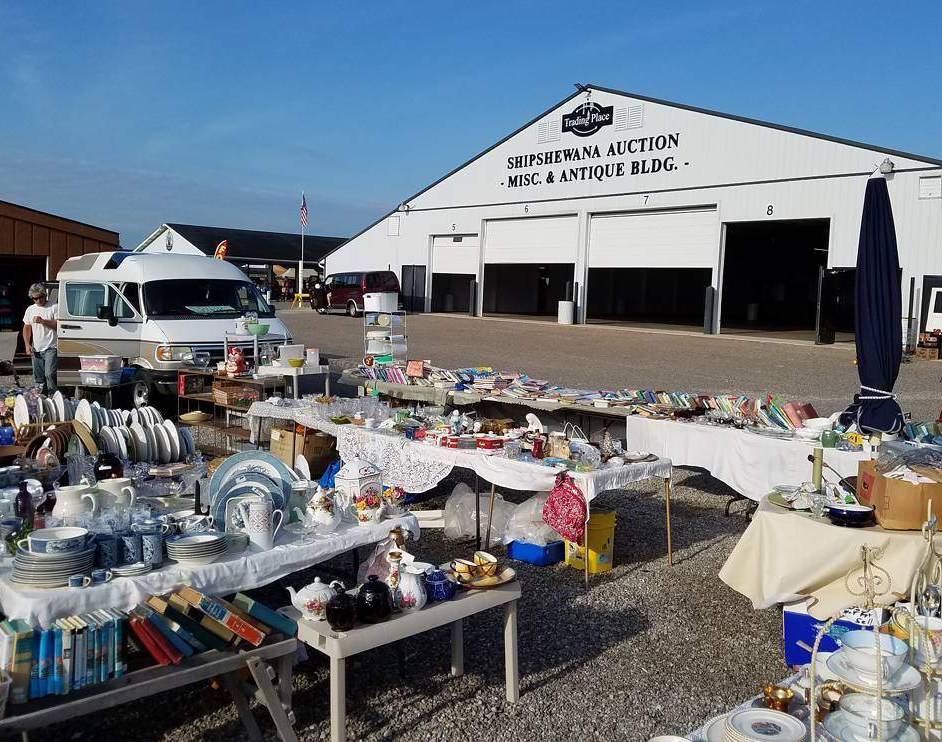 SWAP MEETS
Held on the flea market grounds on select Saturdays throughout the year. You never know what you'll find! Lots of local vendors selling everything from baked goods to antiques, poultry, plants & everything in between.
Open Daylight – 1:00 PM (usually the 3rd Saturday of the month).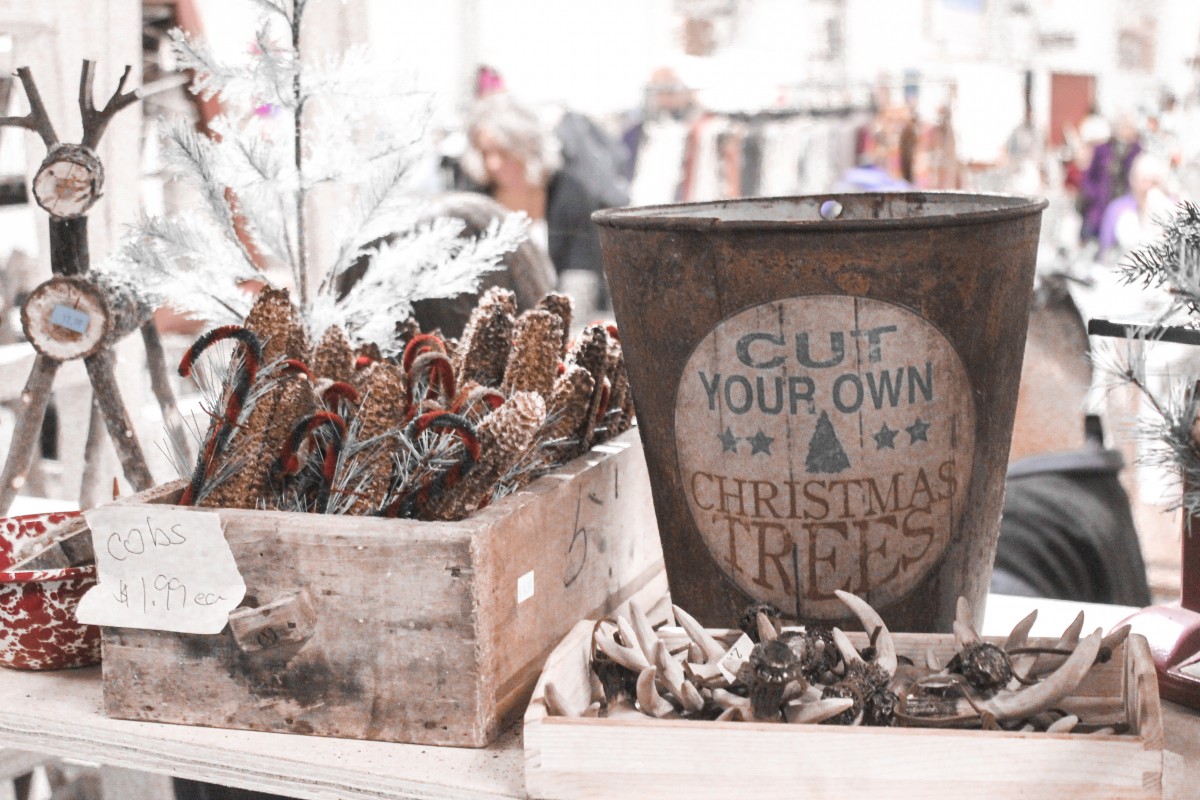 SHIP-CHIC CRAFT & VINTAGE SHOWS
Old stuff, new stuff & handcrafted stuff! Vendors from all over the Midwest come together for a show featuring gifts, vintage items, home décor, crafts, clothing, accessories, baked goods and more! Cost is $5 per person at the door from 9am-12pm & $3 per person from 12am-3pm.
Parking is free. Refreshments available.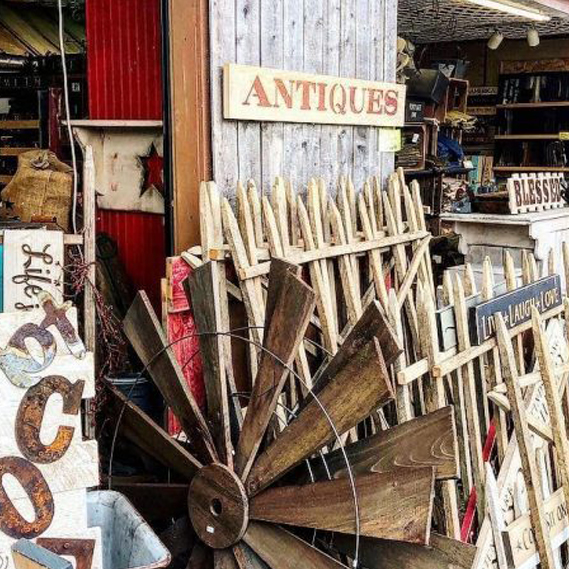 WEEKEND & HOLIDAY MARKETS, BONUS DAYS
The Shipshewana Flea Market is also open for select weekends and holidays as well as 'bonus days' in order to allow shoppers more opportunities for great deals:
Check their calendar for special Fri. & Sat. Market Days!
Also open on Memorial Day, 4th of July (observed Monday, July 5th), and Labor Day, 8am – 4pm.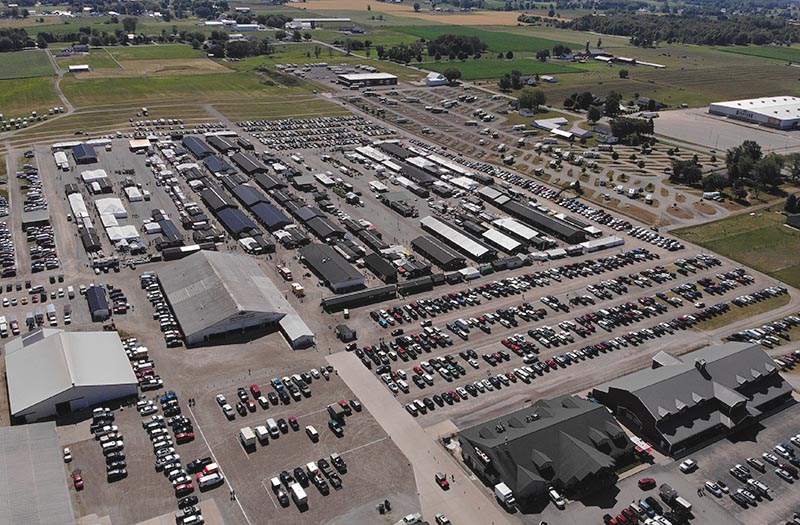 MORE INFORMATION
The Trading Place website is full of resources and additional information for visitors and vendors including scooter rental, a searchable vendor directory, group information and more.
Check in at the Farmstead!
The Farmstead Inn is located right across the street from the Flea Market and their friendly staff is looking forward to providing you a great stay in Shipshewana with a ton of amenities and a comfy, homey feel.