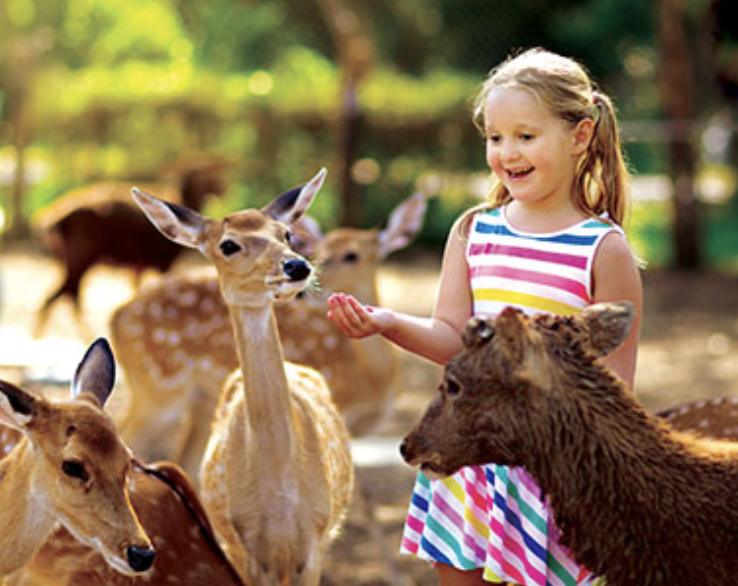 Family-Friendly Destination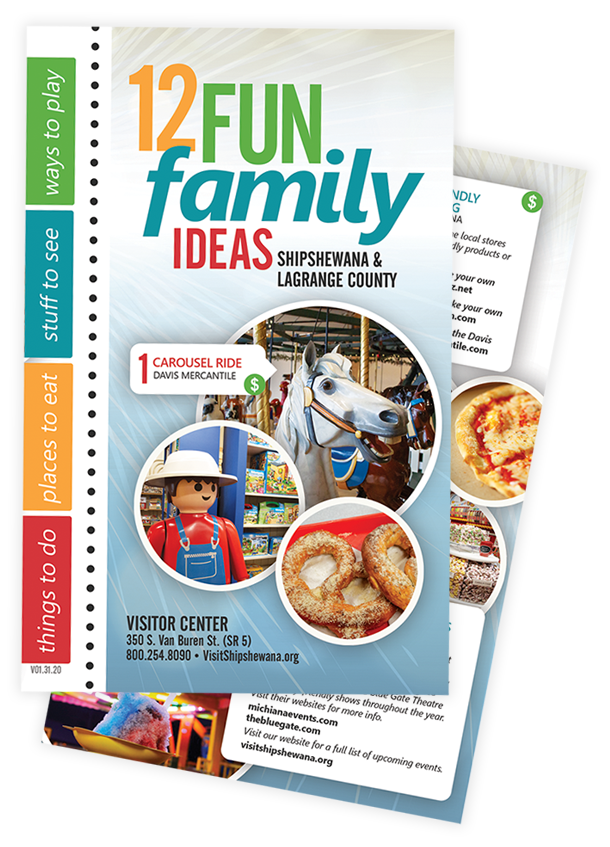 Choose Shipshewana for Your Next Family Vacation Destination!
Shipshewana & LaGrange County are known all over the world as a mecca for Amish culture, delicious home-style cooking & quality artisan products. But we're also a GREAT DESTINATION for families looking for an adventure on a budget!
We've provided "12 Fun Family Ideas" which are low-cost and free activities your family can check out during your Shipshe stay! Download the PDF, or click the links to learn more about businesses and hotels. Come Stay & Play in Shipshewana, Indiana!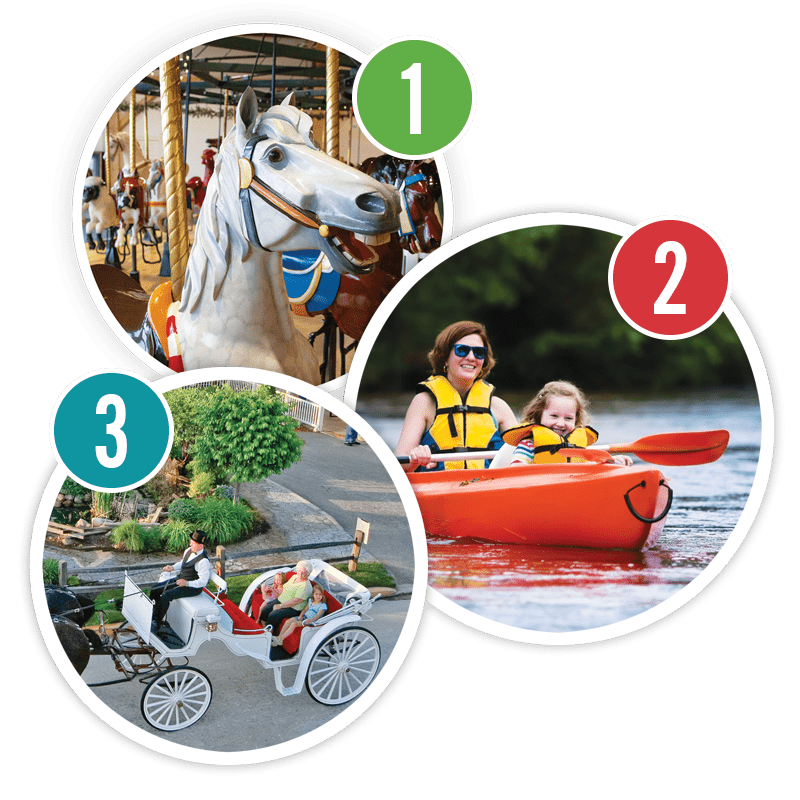 SHIPSHEWANA Enjoy the 1906 Dentzel Carousel featuring hand-carved farm animals. A beautiful attraction for people of all ages!
MONGO & SHIPSHEWANA What says 'family fun' more than spending a relaxing day paddling down scenic Indiana waterways!
SHIPSHEWANA See our town the way most locals do, from behind a horse! Take a tour or just a casual ride in a carriage or a traditional buggy around town.
WOLCOTTVILLE An exciting experience for all ages! Get up close to these amazing animals and create some wholesome family memories you won't forget.
LAGRANGE COUNTY PARKS Pack up the family and head out to one of our 4 county parks that offer beautiful, natural hiking trails.
SHIPSHEWANA Tour the farm on a horse-drawn wagon ride (where you can feed the animals) or see them from the comfort of your own car.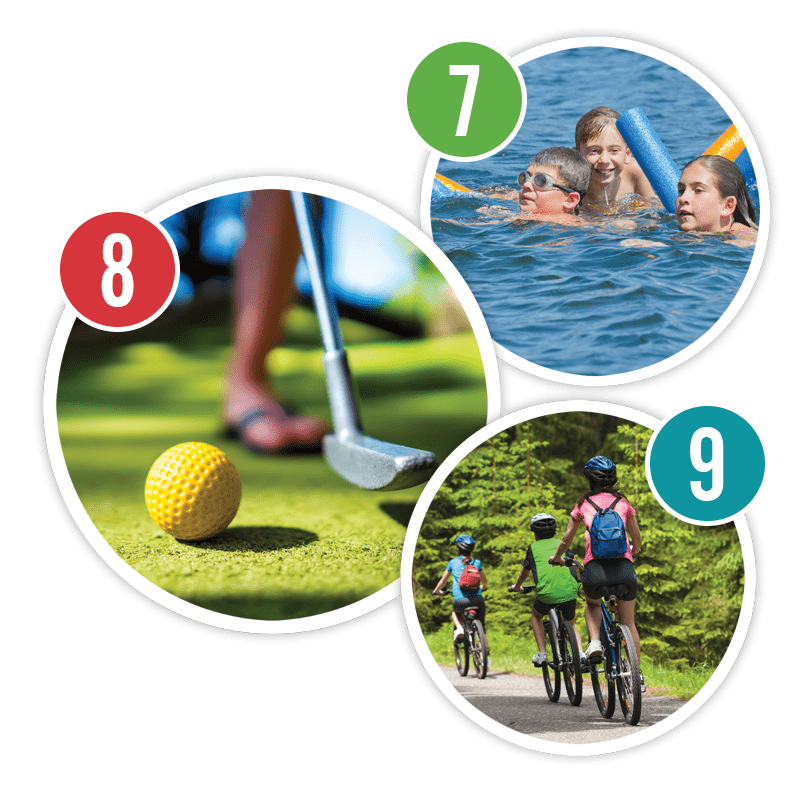 LAGRANGE COUNTY PARKS Visit Cedar Lake, Wall Lake, Dallas Lake, or Shipshewana Lake Parks for beach and/or water access.
SHIPSHEWANA Grab a slice of pizza and a putter and play 18 holes on this fun and challenging mini golf course.
SHIPSHEWANA Rent some bikes and hit this great trail that runs from Shipshewana to Goshen. Stop by the Visitor Center for bike rental & trail info.
SHIPSHEWANA Check out some of the local stores that feature kid-friendly products or experiences: Kids Kreations (make your own doll & more); Lotions & Potions (make your own lotion, bath bombs, lip gloss & more); Red Wagon Toy Store in the Davis Mercantile
LAGRANGE COUNTY Restaurants throughout the county offer lots of kid favorites including chicken, pizza, mac-n-cheese & more. Shipshewana specialty shops offer hot pretzels, vintage candies, homemade ice cream and other yummy treats.
SHOWS & ANNUAL EVENTS (12)
SHIPSHEWANA From the LaGrange County Fair to the Mayfest Celebration to the Lighting of Shipshewana at the holidays, Shipshewana & LaGrange County offer events YEAR-ROUND that are designed for family fun. The MEC and Blue Gate Theatre offer family-friendly shows throughout the year.
NEW ATTRACTION!!!
LAGRANGE SPLASH PARK
The new splash pad is up and running in LaGrange Town Park. Just 15 minutes from Shipshewana, the Town Park is an inclusive park designed to give everyone an opportunity to play and have fun with lots of shaded areas and picnic tables. The splash pad runs from 11am – 8pm. If you arrive and the water is not running, place your hand on the blue activator in the corner of the pad.
Shipshewana hotels with awesome amenities
BLUE GATE GARDEN INN
SHIPSHEWANA – The Blue Gate Garden Inn is the newest hotel in Shipshewana and built to resemble the rambling white farmhouses that dot the countryside. The Blue Gate is large enough to provide the amenities to make you feel pampered, but designed so it feels comfortable and casual. Plus the hotel is located to provide you with the beautiful views of the countryside you'd hope to find in Shipshewana.
WHAT'S GREAT AT THE BLUE GATE?
You'll never run out of things to do! From the indoor pool to the game room to the in-house creamery it's a great stay for families looking to get the most out of their vacation.
Large indoor pool and pool deck area
Hot tub
Game room with all the favorites
Creamery serving Hudsonville Ice Cream
Outdoor fire pit & waterfall
Family-friendly rooms/suites
Outdoor basketball court
Tetherball
Pickleball Court
Family gathering areas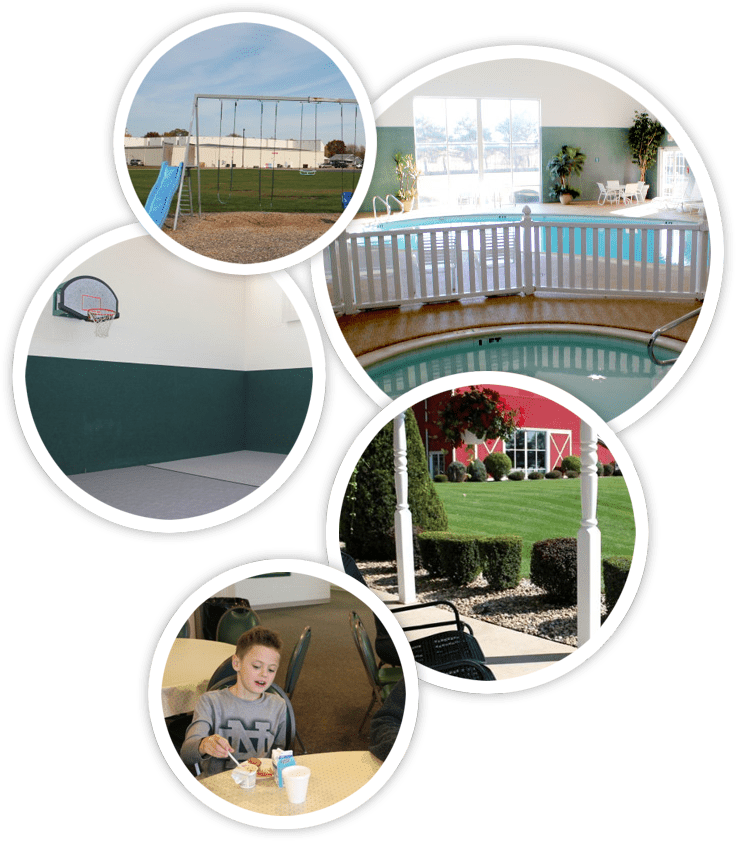 FARMSTEAD INN
SHIPSHEWANA Shipshewana's Farmstead Inn & Conference Center is a beautiful country-style hotel featuring a three-story atrium with fireplaces, free hot continental breakfast, indoor pool and recreation center.
WHAT'S GREAT AT THE FARMSTEAD?
There's SO MUCH ROOM to roam around and explore, both inside and out. And the family will love our breakfasts!
Indoor pool with large pool deck
Hot tub
Fenced kiddie pool
Indoor basketball court
Ping-pong game room
Family-friendly rooms/suites
Multiple family gathering areas
Outdoor gazebo, playground, walking paths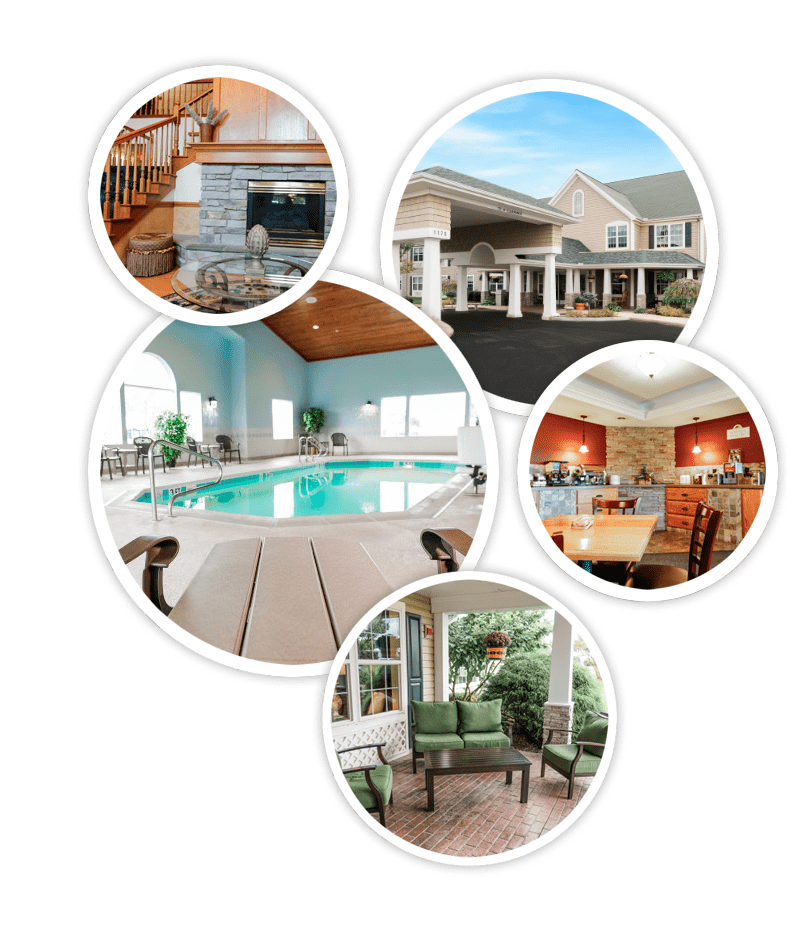 VAN BUREN HOTEL
SHIPSHEWANA "Our family serving your family." Come and experience small town hospitality at its best during your stay here with us! Overlooking the surrounding countryside, our hotel offers a great place to stay while visiting the Shipshewana area. TripAdvisor "Hall of Fame" award winner! Just north on SR5, we're away from the hustle and bustle of downtown. Please come and stay with us! We are proud to offer many fine amenities, such as clean and comfortable Indiana hotel accommodations, complimentary hot breakfast, indoor pool, free wireless high-speed Internet, plus refrigerators and microwaves in every room.
WHAT'S GREAT AT THE VAN BUREN?
Definitely the salt water pool!!
Indoor salt water pool with large pool deck
Jacuzzi/whirlpool/hot tub
In-room whirlpool tubs
Deluxe hot continental breakfast
Guest Laundry
Multiple family gathering areas
Family-friendly rooms/suites
Other Local Hotels/Motels with Family-Friendly Amenities