Whether you like soaking up the summer heat or playing in the snow, there's something to enjoy every season in Shipshewana & LaGrange County. While events, attractions, and activities dot the calendar year-round, we summed it up with 10 reasons why you should visit us!
Live Entertainment
Every year the level of entertainment we host in Shipshewana gets better and better and this year will be the best yet! With the 2019/2020 construction of the Blue Gate Performing Arts Center, Shipshewana will be seeing a whole new level of talent in a state-of-the-art facility with a seating capacity of nearly 1000. You can enjoy the performances of musicians, comedians, and other acts at the Blue Gate Music Hall, Blue Gate Performing Arts Center (PAC) and the Michiana Event Center (MEC). Both the Michiana Event Center and the Blue Gate offer longer running performances to ensure that you'll be able to see our fantastic shows!
Amish Culture
LaGrange County is home to the 3rd largest Amish community in the country – that's what makes us so unique and creates a truly unique experience for our guests! You can get a glimpse inside the local culture through food, tours, history, and Amish buggy rides. The Menno-Hof museum is the best place to start out for some background on the Amish and Mennonite way of life – it's a fascinating educational experience for any age!
Shipshewana Flea Market
There's nothing more satisfying than going home with a great find – and Shipshewana has FINDS FOR DAYS!!! The first place to start your treasure hunt should be our famous Shipshewana Flea Market. The largest flea market in the Midwest, there's a booth for everyone's tastes with new vendors coming every year and favorite vendors returning with tasty treats and amazing finds.
Outdoor Recreation
While LaGrange County is mostly known for Shipshewana, we are also proud of the wide variety of outdoor recreation options we have to offer our visitors. We have 5 County Parks open to the public all year long to enjoying hiking, biking, swimming, disc golf, archery, bird watching and general nature enjoyment. If the open water is more your speed visit one of our 70 lakes, or paddle down a scenic river using one of our local liveries. Better on land and two wheels? The Pumpkinvine Trail will take you along the old railway from Shipshewana all the way to Elkhart, connecting to more trails. Plus, the smooth pavement makes it an easy ride as you cruise along enjoying the local scenery, ice cream stands, restaurants, shaded picnic areas and more.
Guided Amish Tours & Buggy Rides
What better way to enjoy Shipshewana and the surrounding area than to be chauffeured around! Hop aboard Blue Gate's bus for one of their signature Amish tours – you have several options to choose from.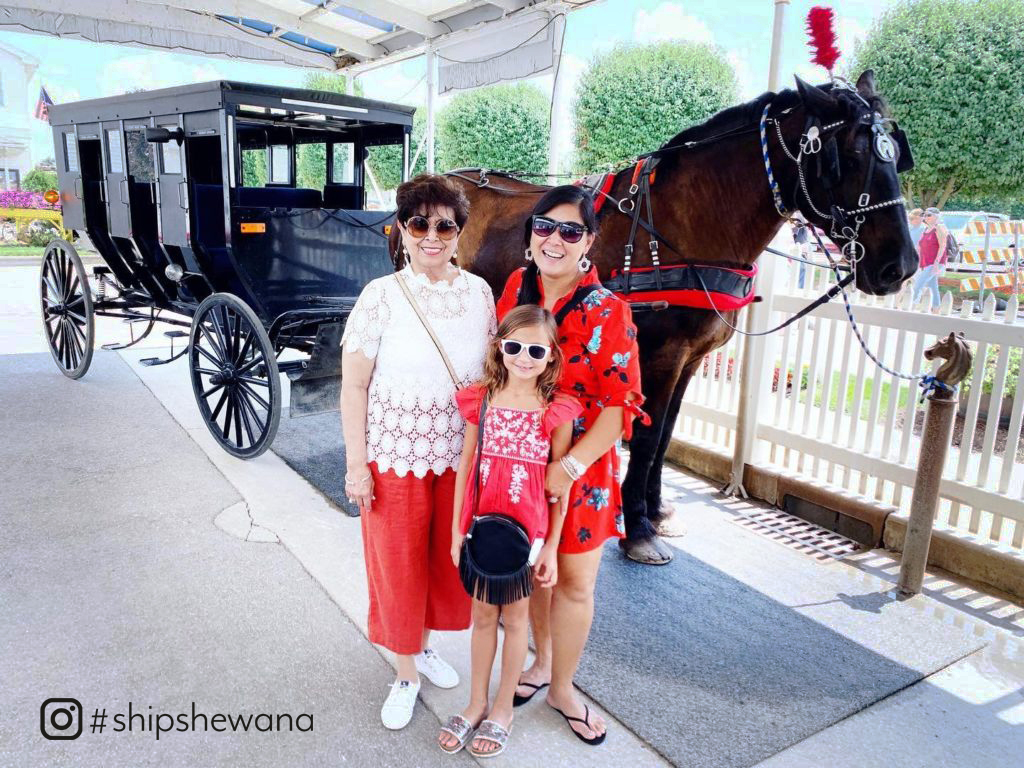 Want to ride like a local?!? Several local buggy companies offer anything from a quick trip around town to an extensive farm tour finished off with an in-home Amish dinner. Any tour you take, it's a great opportunity to hear about Northern Indiana living from a local's perspective.
Shipshewana Majestic
Shipshewana Majestic is a live performance that runs throughout the year at the Michiana Event Center (MEC). You can't see these shows ANYWHERE ELSE!! Aerial performers, trick riding horses, dancing, singing, comedy, exotic animals and more! Plus, you can get the VIP experience and head backstage to meet the performers. Amazing wholesome family entertainment the kids will be talking about for years.
Barn Quilt Trail & Walldog Murals
When people think of LaGrange County they usually think of two things: barns & quilts! And when you combine these together you get the unique countryside art of Barn Quilts. These geometric blocks may look familiar to a quilter, but are appreciated by any spectator. New patterns and designs are added every year, so there's always a fresh look on our Indiana backroads. Spending the day in town? Stroll through the Shipshewana streets and enjoy the Walldog Murals. Painted in 2014, these 16 murals are a great representation of the local history.
Fall Crafter's Fair
Dozens of vendors all featuring HANDMADE and ARTISAN items under one roof! Visit the annual Fall Crafter's Fair (usually the first week in October) to stroll down aisle after aisle of unique items you can't find in the big box stores. Not to mention several food vendors, live entertainers and activities for kids. It's one of our biggest annual events and it supports the local artisans and makers that help make Shipshewana special.
A Shipshewana Christmas
Christmas really is the most magical time of year in Shipshewana … just drive through town and you'll realize why! We start early (beginning of November) with the Shipshewana Light Parade & Tree Lighting Ceremony. This event draws locals from all over the area, the streets are lined with Amish and English spectators. The drive-thru Lights of Joy display at the Flea Market grounds begins early November and runs until January so there will be lots of chances to check it out. Plus, everyone has Christmas shopping to do, so why not shop our unique, local stores & shops. We look forward to seeing everyone at this very special time of year!
We hope you'll find some Shipshewana events that you enjoy and plan to come back year after year – we're constantly adding and expanding our offerings so you'll want to Explore the Heart of Amish Country!
We hope you'll find some Shipshewana events that you enjoy and plan to come back year after year – we're constantly adding and expanding our offerings so you'll want to Explore the Heart of Amish Country!